At my feeder
starlings flutter, peck, push,
suddenly lift off
in a jumble of tilted wings.
Meanwhile, the poplar
releases its seeds,
surrounded by white fluff.
They float in slow, erratic flights.
Updrafts catch some,
lift them toward the morning sun.
Others drift in horizontal lines
like canoes dawdling on a quiet river.
Eventually they descend,
accumulate on my lawn,
soft as a clutch of down.

A starling all my life,
I jostle for a turn at the tray.
I'd rather be a puff
and drop not knowing
whether wind will spin or cradle me,
trusting in the mystery
that beckons me below.


© by Margaret Coombs.
Used with the author's permission.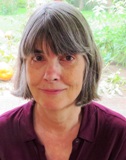 Margaret Coombs, formerly known as Peggy Turnbull, is a retired academic librarian who lives in the city of her birth, Manitowoc, Wisconsin. After four decades away, she and her husband moved back to live near four generations of her family. Margaret recently changed her writing name to her birth name as a way to connect with the literary dreams that she had as a child. Her chapbook, The Joy of Their Holiness, was published in 2020 by Kelsay Press. Learn more about Margaret here.
Lori Levy:
Great images. Beautiful poem!
Posted 05/03/2020 03:06 PM
KevinArnold:
? A starling all my life,/I jostle for a turn at the tray? is quite the couplet.
Posted 05/03/2020 11:25 AM
Sharon Waller Knutson:
I love this poem reminding us of the quiet and loud noises of nature. We hear the murmuring of the dove and the squawking of crows in the daytime and the whispering of the owls and serenading of the Sonora toad in the evening.
Posted 05/03/2020 10:29 AM
peninsulapoet:
I love the way the poem turns at the end to the personal. Wisconsin births some wonderful poets. <3
Posted 05/03/2020 09:48 AM
cork:
I often feel like a "dawdling canoe.'
Posted 05/03/2020 08:55 AM
Gilbert Allen:
Yes--and the "clutch of down" helps to make that transformation more convincing.
Posted 05/03/2020 07:11 AM
Larry Schug:
A skillful path to the nugget of the poem; I'm impressed with how you transform the poem with the excellent line "a starling all my life".
Posted 05/03/2020 06:33 AM