I hang out linens
on a bright raw morning.
The spring sky sneers,
reluctant to warm up
to me or the season,
so I retreat with moist numb thumbs.
All day I hear the sharp snap of sheets
whipping in the cold gusts
that try to rip them from the line.
Dark stick silhouettes
claw along tangled cotton,
but orange cases pillow
with the seasonís spite and glow
in a row of summer moons.
Late in the afternoon I bring them inside,
dry and sun-warm,
and fold up the sweet clear air
caught within their threads.
†©2009 by Heather Moore Niver.
Used with the author's permission.
†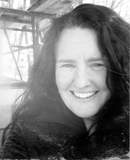 Heather Moore Niver lives along New York's Hudson River where she works as a writer, editor, workshop leader, photographer, and wielder of wool. She has written numerous nonfiction books for children, and her poetry has appeared in many journals. Learn more about Heather's wild and woolly adventures in words, sheep, and (reluctant) running at https://instagram.com/nivermoore/ or follow her on Twitter @nivermoore.
nivermoore:
Thank you for all the kind comments!
Posted 04/15/2015 08:08 AM
rhonasheridan:
Lovely poem.
Posted 04/14/2015 01:05 AM
Shoshauna Shy:
I love clotheslines, and hang my clothes out every chance I get. One year (here in Wisconsin), I had clothes on the line and it snowed - on April Fools Day. Quite something to see clothes sagging under snow on the line! Love your poem!
Posted 04/13/2015 09:07 PM
transitions:
There is no fragrance you can buy as sweet as sun-dried pillowcases, the best 'sleeping pill'. Beautifully described and written.
Posted 04/13/2015 12:31 PM
Cindy:
I loved hanging out but no longer have a clothesline. Those were the days of diapers in a row getting whitened by the sun.
Posted 04/13/2015 08:50 AM
paradea:
Love all the images, especially 'orange cases pillow...in a row of summer moons' and the last line is perfect!!
Posted 04/13/2015 07:53 AM
Larry Schug:
We don't have a dryer; all hail the clothes line, cold fingers, wind and sun. There is nothing like sleeping on a freshly line-dried pillow case. You've captured it, Heather.
Posted 04/13/2015 07:41 AM
Katrina:
I like this.
Posted 04/13/2015 05:45 AM
mimi:
time to shore up my clothesline! vivid images, sounds and smells in this poem..
Posted 04/13/2015 05:34 AM
KevinArnold:
Strong ending.
Posted 04/12/2015 11:40 PM