I watch the water rippling
over rocks
in the stream
in the woods
my dog and I visit every day.
The water is clean
crystalline pure
hugging tight to rounded rocks,
pulled tight as if by
some giant magnet.
Every now and then
a small leaf boat
bounces and bubbles along,
skirting boulders, dipping over stones
slipping between rocks.
always upright, secure, stable.
as if guided by a small insect crew.
Ants on the tiller,
Spiders on the sail.


© by Ron Stewart.
Used with the author's permission.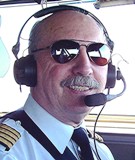 Ron Stewart is a retired airline pilot; he spent 12 years in the RCAF, 5 years as an aircraft accident investigator, and 28 years with Jazz Aviation. Ron lives in Kilworth, a small village just outside London, Ontario, with his wife of 50+ years, his dog Calliope, and cat Penelope. He started writing poetry a few years before retirement and is the author of two self-published poetry books: That Good Old Poetry Book and A Boy Growing up in London.
Jancan:
This poem is a delightful blend of vivid literal and figurative language. I especially like the last few lines--so creative.
Posted 08/08/2020 01:18 PM
Wilda Morris:
I especially love the ending! You took me along with you, watching that leaf boat!
Posted 08/02/2020 06:34 PM
Ron Stewart:
Thanks Jayne for publishing "On Rippling Water". Thanks to everyone for such encouraging and inspiring comments. To barbsteff I debated long and hard over your suggested line break but finally decided when the title became apparent.
Posted 07/31/2020 04:14 PM
DELINDMAN:
You carried me along with you. I believe that's what good poetry should do.
Posted 07/31/2020 03:09 PM
Anastasia:
Such wonderful images! And sailing on "a small leaf boat" with such a crew sounds like great fun!
Posted 07/31/2020 01:59 PM
barbsteff:
"I watch the water/rippling over?" = great opening lines to match the great closing of ants and spiders! I thoroughly enjoyed this one.
Posted 07/31/2020 12:28 PM
paradea:
Love it!!!
Posted 07/31/2020 10:22 AM
michael escoubas:
Good poets take the reader with them--well done Ron!
Posted 07/31/2020 09:11 AM
KevinArnold:
Great scene-setting, great fun.
Posted 07/31/2020 09:07 AM
Larry Schug:
Kind of like a long haiku, the same sense of presence.
Posted 07/31/2020 08:36 AM
mail@schoolbusmart.com:
Yes, great two lines: ants on the tiller/spiders on the sails. Randy
Posted 07/31/2020 07:10 AM
Sharon Waller Knutson:
I love this humorous, delightful picturesque poem. It's like watching a video. My eyes follow the stream as it "hugs close to the rocks" and the leaf boats bouncing and bubbling along with the insect crew. My favorite lines "Ants on the tiller. Spiders on the sail."
Posted 07/31/2020 05:56 AM