Read to me riddles and read to me rhymes
Read to me stories of magical times
Read to me tales about castles and kings
Read to me stories of fabulous things
Read to me pirates and read to me knights
Read to me dragons and dragon-book fights
Read to me spaceships and cowboys and then
When you are finished--please read them again.

From The Three Bears Rhyme Book (Houghton Mifflin Harcourt,1987).
Used here with permission.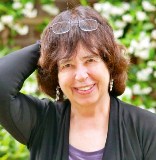 Jane Yolen was born in New York City to parents who were also writers. She began writing and winning awards in childhood and is today the author of nearly 400 books—for every age level, of multiple genres, and translated into a dozen different languages. A poet first and foremost, Jane is probably best known for her picture books. Two of her children are writers, and one is a photographer/writer (he took the photo above); she has collaborated with all three on book projects. A picture book she wrote with one of her granddaughters, Nana Dances, is due out in 2021 or 2022. Jane lives in Massachusetts, except for the four months each year when she lives in Scotland; learn more about her at www.janeyolen.com.
Anastasia:
What fun! My nephew and his wife just had their first child - a book of poems will be on its way to them!
Posted 08/22/2020 02:16 PM
Lori Levy:
Will read it to my grandchildren!
Posted 08/09/2020 03:26 PM
barbsteff:
What fun! Flawless rhythm and rhyme.
Posted 08/09/2020 03:17 PM
Sharon Waller Knutson:
Enjoyable uplifting rhyme and just perfect on a Pandemic Sunday morning for kids of all ages. Especially on National Book Lovers Day.
Posted 08/09/2020 10:48 AM
paradea:
Yes. I will read it again, to my great-grandchildren!
Posted 08/09/2020 09:15 AM
michael escoubas:
Delightful, winsome and wise . . . I love the lilting cadence of this poem as well.
Posted 08/09/2020 08:27 AM
mail@schoolbusmart.com:
Lovely. I'm going to read it again. (big smile). Randy
Posted 08/09/2020 06:26 AM