Such joy in crossing
A summer stream
Sandals in hand


From Haiku: Classic Japanese Short Poems (Amber Books Ltd., 2016).
Translation by Hart Larrabee.
Used here with permission.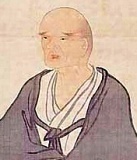 Yosa Buson (1716 – 1784) was a well known and successful Japanese painter and poet.  He traveled extensively in Japan before settling in Kyoto at the age of 42, after which he married, had a daughter, and spent the rest of his life writing and teaching poetry.

Hart Larrabee is an American translator. Born in New York, he majored in Japanese in college and now lives in the little town of Obuse in northern Nagano, Japan. In addition to poetry, Hart also translates non-fiction, particularly in the fields of art, design, and architecture.
Quaid-Uz-Zaman:
Such joy in crossing A summer stream Sandals in hand From Haiku: Classic Japanese Short Poems (Amber Books Ltd., 2016). Translation by Hart Larrabee. Used here with permission. Yosa Buson (1716 ? 1784) was a well known and successful Japanese painter and poet. He traveled extensively in Japan before settling in Kyoto at the age of 42, after which he married, had a daughter, and spent the rest of his life writing and teaching poetry. Hart Larrabee is an American translator. Born in New York, he majored in Japanese in college and now lives in the little town of Obuse in northern Nagano, Japan. In addition to poetry, Hart also translates non-fiction, particularly in the fields of art, design, and architecture. what a joy reading the marvellus haiku!
Posted 11/28/2020 01:35 PM
Quaid-Uz-Zaman:
what a joy reading the marvallus haiku!
Posted 11/28/2020 01:14 PM
Tracers645:
Refreshing!
Posted 08/14/2020 04:52 PM
Lori Levy:
Beautiful haiku.
Posted 08/14/2020 02:52 PM
cork:
Ichiban! Keep the sandals dry.
Posted 08/14/2020 08:49 AM
michael escoubas:
So many possible "takes" on this. Wonderful translation . . . thank you Hart.
Posted 08/14/2020 08:07 AM
KevinArnold:
Great find. Go YDP!
Posted 08/14/2020 08:01 AM