No "distancing" for them.
Travel bans don't apply.
They fly first-class from the South          
or maybe take the red-eye.          

Learning of this party through constant tweeting,
they congregate unmasked
in chattering clusters on the grass,

or animated tête-à-têtes in the trees—
robins, red-winged blackbirds,
chickadees.


© by Phyllis Wax.
Used here with the author's permission.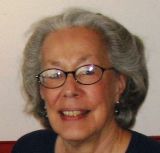 Phyllis Wax writes in Milwaukee, Wisconsin on a bluff overlooking Lake Michigan. From her office window, she observes birds and butterflies in their seasonal migrations. Phyllis has read her poetry on the radio, in coffee shops, in libraries and bars, and her work has been exhibited with art quilts and weavings in a variety of venues around the state of Wisconsin as part of four poet/fiber artist collaborations. These days, Phyllis sticks pretty close to home, but she still enjoys walking near the lake.
Quaid-Uz-Zaman:
A beautiful energetic poem during this pandemic time.i really enjoyed.
Posted 12/01/2020 05:22 AM
Wilda Morris:
Love it!
Posted 08/31/2020 10:38 PM
Anastasia:
Thank you for something light and fun to start my day! There's a large flock of crows near our office, and they love playing in the fountain in the building courtyard. It has multiple tiers, and they take turns "surfing" down the fountain. It's wonderfully entertaining!
Posted 08/22/2020 02:10 PM
pennarl@comcast.net:
I shared Your Daily Poem with my sister and her response to "Ignoring the Rules" was, "They are above it all!" Fun poem, fun response. Thank you!
Posted 08/20/2020 08:50 AM
pennarl@comcast.net:
I shared this Your Daily Poem page with my sister. Her response to "Ignoring the Rules" was "They are above it all!" Fun poem, fun response. Thank you!
Posted 08/20/2020 08:48 AM
CamilleBalla:
Loved this light and airy poem. Thank you!
Posted 08/18/2020 07:32 PM
Lori Levy:
Great!
Posted 08/18/2020 03:07 PM
Sharon Waller Knutson:
Very clever poem. Love the alliteration, metaphors and personification, especially, "Learning of this party through constant tweeting, they congregate unmasked in chattering clusters on the grass."
Posted 08/18/2020 12:17 PM
mltpoet:
A spirit-lifter, when many (most?) of us use could use some of that. Delightful. Marilyn Taylor
Posted 08/18/2020 11:14 AM
barbsteff:
Wonderful irony Phyllis!
Posted 08/18/2020 09:40 AM
michael escoubas:
Totally delightful, Phyllis . . . just what the world needs at this moment. You have amply demonstrated one of the possible purposes of poets and poetry!!
Posted 08/18/2020 08:40 AM
paula:
Hi Phyllis, Boy did I need your upbeat poem this morning. Good to hear your voice. Be well, Paula
Posted 08/18/2020 06:21 AM
Chrissie:
Loved this poem , thank you
Posted 08/18/2020 05:42 AM