We are in this together.
Everything belongs to all of us: rough days
and rainbows, dirty wash and sun-drenched skies,
hungry hearts and fall harvests, angry words
and healing prayers. Whether you put your
foot in the water or not, the waves will roll
in and out. The starling in the snow finds
the squirrel's discarded stash.
Smile. Breathe. Life goes on.
Be grateful.
We are in this together.
 
 
From Gratitude Prayers (Andrews McMeel, 2013)
Used here with author's permission.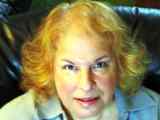 Arlene Gay Levine is the author of 39 Ways to Open Your Heart: An Illuminated Meditation (Conari Press) and Movie Life (Finishing Line Press). Her poetry and prose have appeared in The New York Times, an off-Broadway show, the radio, and more than 30 anthologies and journals. Arlene has served as a judge for Illinois and Virginia state poetry society contests and she is the creator/facilitator of Logos Therapy™, a transformational writing process. Arlene lives with her husband in New York City, where she tends a garden of words, roses and herbs. Learn more about her at http://www.arlenegaylevine.com.
Wilda Morris:
Wise and beautiful. Thank you!
Posted 08/31/2020 10:27 PM
Jo:
Hi Arlene, Your poetry is beautiful and filled with wisdom. I always look for you here.
Posted 08/27/2020 09:04 PM
Lori Levy:
I also especially liked the line noted below about the starling in the snow finding the squirrel's "discarded stash."
Posted 08/24/2020 11:40 PM
DavidTookey:
"The starling in the snow finds the squirrel?s discarded stash." Wonderful image. :-) Thank you for this poem!
Posted 08/24/2020 10:28 PM
Arlene Gay Levine:
My thanks for these kind, thoughtful comments!
Posted 08/24/2020 08:25 PM
Carolyn C:
Arlene - Beautiful, beautiful poem and so true. Thank you. I'm going to put it in my favorite poems folder.
Posted 08/24/2020 02:23 PM
michael escoubas:
Thank you Arlene . . . this poem says so much and with profound poignancy.
Posted 08/24/2020 11:48 AM
barbsteff:
Well said!
Posted 08/24/2020 10:16 AM
KevinArnold:
I enjoy the circular movement, the poem ending where it started after its journey.
Posted 08/24/2020 09:25 AM
paradea:
Beautiful poem...and so true!!
Posted 08/24/2020 07:51 AM