When he was eight
and already a little fish
born to the water,
I put him in a life jacket
he protesting such restriction
but then guided him to swim
with me away from shore
and all the bloated floating toys,
yelling kids, and his worried mother
slowly toward the middle of the lake
where sandy bottom drops to black
and the very air becomes rarefied
by sweet rippling breezes.
 
We floated on our backs
watching crooked-winged gulls
and ospreys piercing the clouds
then dove so near we could feel
the thrill of descent then a clownish
cormorant that surfaced and dove
again and again when he called it
'Cordy-Duck' and us laughing
with no one else but the birds to hear.
 
My wish this gift:
for him to always know such joy;
the freedom to leave when he must
the exacting constrained earth to find
peace
where the water meets the sky.


© by Carol Amato.
Used here with the author's permission.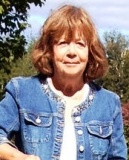 Carol A. Amato says poetry has always been her first writing love, and one of her goals is to show "the interconnectedness between humans and nature."  A natural science educator, she wrote The Young Reader's Series, ten books about endangered and threatened animals, and Backyard Pets – Activities for Exploring Wildlife Close to Home. She is also the author of Fireworks and Freedom, a 4th of July story and activity book. Besides reflecting her love of nature, Carol, who lives near Boston, Massachusetts, likes for her poetry to tell a story. She usually draws from her own experiences, but also like to venture into other's lives, as she does in her forthcoming book, The Waitress Diaries. Declares Carol, "Sometimes it's so much fun pretending to be someone else!"
Lori Levy:
Beautiful moment captured.
Posted 09/13/2020 06:34 PM
Anastasia:
So evocative! I felt like I was in the lake, too!
Posted 09/13/2020 05:28 PM
joecot:
You took us all to the middle of the lake. Thank you.
Posted 09/13/2020 03:59 PM
Glen Sorestad:
What a fine, poem. Thank you, Carol.
Posted 09/13/2020 11:12 AM
cork:
I enjoyed the swim.
Posted 09/13/2020 10:55 AM
KevinArnold:
Yes, wonderful. The initial setup, the encumbrance of the lifejacket, was just right.
Posted 09/13/2020 10:28 AM
Jean Colonomos-1:
This brought on Nana tears. How lucky we grandparents are.
Posted 09/13/2020 09:57 AM
paradea:
Beautiful poem!!!
Posted 09/13/2020 08:54 AM
Larry Schug:
How precious are these moments. These words hold, for awhile, what can not be held for long, yet held always.
Posted 09/13/2020 08:45 AM
michael escoubas:
A splash of joy on this beautiful Lord's Day morning! Thank you Carol.
Posted 09/13/2020 07:42 AM
Sharon Waller Knutson:
Lovely poem. Beautiful images to show the lessons we teach our grandchildren about loving and enjoying nature.
Posted 09/13/2020 07:01 AM