(Official birth certificate name: Marsha Diane Foss)
When I was Dale Evans,
my friend Karen was Annie Oakley.
We rode our galloping mares
through yards and down the alleys,
our holstered cap guns at our sides,
keeping the neighborhood safe.
 
When I was in love with Debbie Reynolds
and her bachelor.
I told kids next door to my cousins' house
that my real name was Tammy
and I didn't know why my family
called me something else.
 
When I tried Sunny for a week
at camp I was ready to broaden my horizons.
I soon grew weary of the brightness of the name
and by Thursday decided that sun needed to set
as I moved on to something
mysterious and cloudy: Kalani.
 
When I became Kate
my divorce was almost complete.
I'd dropped his name following the hyphen
and added an extra middle name to mine
on passport, driver's license, and the deed
for my new townhouse.
 
In real life
now married anew
with no one else's name
I still keep the neighborhood safe,
grandchildren at my side.
"Heigh-ho, Mormor!" they shout.


© by Marsha Foss.
Used with the author's permission.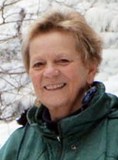 Marsha Foss, a retired educator, spends her time between her two favorite states, Maryland and Minnesota. When in St. Paul, she enjoys being connected to the area's vibrant writing community. Her work has been published in numerous places, and she has been nominated for a Pushcart Prize. An added joy is living near two young grandsons.
Jancan:
I really like this delightful blend of nostalgia at its best--with a good dollop of humor.
Posted 09/22/2020 11:16 AM
Lori Levy:
Like the humor in this poem.
Posted 09/15/2020 08:19 PM
Anastasia:
I changed my last name when after I graduated college because the name I was raised with wasn't really my family's name. It made an amazing difference for me to be called what I know to be my real name! Also, I love "Mormor" - it sounds very comforting and reassuring!
Posted 09/15/2020 02:18 PM
Jean Colonomos-1:
Hi ho to the facets of phases we to through!
Posted 09/15/2020 10:56 AM
Shoshauna Shy:
I sure can relate. My birth name is a variation on the name I use now, but a lot of people know me by my second nickname. Then I changed up my last name so it would stop getting mispronounced at the microphone all the time. Very confusing for all involved! But I love this poem and its conversational tone, along with becoming "Kate" at divorce time.
Posted 09/15/2020 09:52 AM
paradea:
The more names or nicknames, the better. I love this poem!1
Posted 09/15/2020 09:15 AM
michael escoubas:
What's in a name? Everything!! Nicely done Marsha.
Posted 09/15/2020 09:00 AM
Larry Schug:
I have a nickname and lots of people know me only by that name until they see the name my parents gave me on the cover of one of my books. p.s. It's ------ haha! I like this poem by whoever wrote it.
Posted 09/15/2020 08:46 AM
mail@schoolbusmart.com:
Nice piece. We are so many things/people, real or imagined, shaping our sense of self for better or worse. And even when we are exactly who we are, without pretense, others still see us for what we are and what we try to portray. Thank you. Randy. Heigh-ho
Posted 09/15/2020 08:08 AM