God gave the honeybee six weeks
and so
she flies
five hundred miles
in short refrains
of alleluias
to windy, white clover fields
to pink and proper rose gardens
gathering nectar in that careful needle
taking no time for self-pity, though
her life's work, together
with that of eleven sisters
was the teaspoon of honey
I just stirred into my tea.
 
Sometimes she stops to walk
on my sunflowers,
her sturdy legs grow heavy
as she fills her pollen-baskets
with food for the bees back home,
but I like to think her stroll
on those upturned yellow faces,
is more for the joy of making me wonder
what I know of happiness.  
 
This poem first appeared in the Wisconsin Poets' Calendar.
Used here with the author's permission.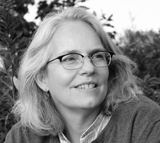 Jeanie Tomasko is a home health nurse in Madison, Wisconsin. She was almost an English major and enjoys a life of regret by writing poetry on the side.Jeanie's books include Tricks of Light (Parallel Press), Sharp as Want (Little Eagle Press), a poetry / artworks collaboration with Sharon Auberle, an e-chapbook, If I Confess Before 5:00 (Right Hand Pointing) and, most recently, (Prologue), which received an Editor's Choice award from Concrete Wolf Chapbook Series. She enjoys all things nature, especially birds and long walks. Learn more about Jeanie at www.JeanieTomasko.com.  
Shoshauna Shy:
Read this to my daughter while she measured out some honey into a spoon!
Posted 04/28/2015 10:47 AM
ed werstein:
Wow, as usual, Jeanie
Posted 04/27/2015 08:44 AM
mimi:
a poem full of sweetness and joy--LOVE this, Jeanie, thanks!
Posted 04/26/2015 07:06 AM
transitions:
Einstein said mankind has four years left after the last bee dies...These are flying miracles that should be protected at whatever the cost. The bees are a necessity, not a luxury~ a brilliant poem, should be read to congress.
Posted 04/25/2015 12:57 PM
msruff:
What a beautiful image.
Posted 04/25/2015 10:04 AM
Cindy:
like getting to look at life through a magnifying glass; so good
Posted 04/25/2015 09:13 AM
erinsnana:
love love love this poem!
Posted 04/25/2015 08:51 AM
paradea:
Fantastic! I read it aloud more than once. What a good feeling!!
Posted 04/25/2015 08:37 AM
Larry Schug:
One of the best I've read on YDP. Take care of the bees, everyone. They take care of us and so does poetry like this beautiful poem.
Posted 04/25/2015 07:48 AM
KevinArnold:
Marvelous poem, continually on the mark, especially with its fulfilling ending. As far as the output of bees, I think the poem infers it takes twelve bees to make a teaspoon: her life's work, together / with that of eleven sisters / was the teaspoon of honey / I just stirred into my tea. //
Posted 04/25/2015 07:40 AM
vscholtz:
Part of what I know about happiness is poetry. Thanks for yours.
Posted 04/25/2015 06:52 AM
Janet Leahy:
Would like to have this poem on a plaque in my garden, love the "short refrains of alleluias." Thanks Jeanie.
Posted 04/25/2015 06:50 AM
paula:
Wonderful!
Posted 04/25/2015 06:27 AM
Leslie Holt:
"Sweetness" is beautiful in its entirety ... however this especially "... like to think her stroll/on those upturned yellow faces,/is more for the joy of making me wonder/what I know of happiness" makes me smile. Thank you for sharing your gift.
Posted 03/03/2011 07:58 AM
Tothemoon157:
Love this poem! I memorized it for school and still remember it a year and a half later.
Posted 12/20/2010 08:18 PM