Never,
my mirror said to me,
dye your hair again.
That red-maple harshness
is paling your skin.
 
Salt-and-pepper becomes me,
or so I was told
though a son home from college
pronounced I looked old.
 
Now I have his son's approval
while we read in a chair:
"Look, Grammy," says Cormac,
"you have polar bear hair!"


© by Sheila Murphy.
Used with the author's permission.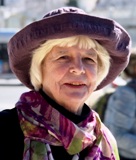 Sheila Murphy has published one chapbook, edited several essay collections, and her poems have appeared in many journals. A retired teacher, she has led memoir workshops for seniors in her local library and for Wesleyan University's Institute for Lifelong Learning. Married for 61 years, Sheila is the mother of four and grandmother of ten. She revels in the company of books, words, chocolate, family, and friends. When not traveling to Ireland and Rome (pre-COVID), Sheila and her husband divide their time between Connecticut and Massachusetts. Her current project is a memoir about her mother, who served as a Navy yeoman (F) in Boston during World War I.
wayne.goodling@yahoo.com:
nice job
Posted 10/18/2020 05:09 PM
wayne.goodling@yahoo.com:
nice job
Posted 10/18/2020 05:08 PM
Anastasia:
I *earned* every single one of the gray hairs on my head, and I can point to specific ones and name the person who caused it! I like my "polar bear hair"!
Posted 10/07/2020 10:12 PM
Janet Leahy:
With an economy of words this poem is exquisite. Thanks Sheila
Posted 10/07/2020 05:50 PM
Lori Levy:
Love this take on white hair!
Posted 10/07/2020 03:58 PM
mail@schoolbusmart.com:
Cute! Randy
Posted 10/07/2020 02:13 PM
Jean Colonomos-1:
Polar bear hair is so flattering and distinguished.
Posted 10/07/2020 12:00 PM
jmcadam:
This makes me think of my mother, who, for the last 15 years of her life, had her hair a red color that I really disliked. I wanted the salt-and-pepper back. But apparently her hair dresser had her convinced! Thank you!
Posted 10/07/2020 11:32 AM
michael escoubas:
What a delight, Sheila. Most of us septuagenarians can easily relate. I like the simplicity of your writing.
Posted 10/07/2020 09:03 AM
Cathy's Sister:
I really related to this poem. My son also tells me I look old, but I like my polar bear hair!
Posted 10/07/2020 08:05 AM
Sharon Waller Knutson:
What a delightful poem. Clever and cute. Love that Polar bear hair.
Posted 10/07/2020 07:08 AM