How will I remember quarantine?
By the shopping trips I didnít take.
The concerts not attended.
The restaurants avoided.
†
Or what I did instead?
†
Call a cousin not seen in years. Bake
banana bread. Paint the bedroom pink.
Garden. Hike. Read. Sleep past 8 a.m.
†
Snuggle with an old man statistically
at risk to be gone in the next decade
whether he catches the virus or not.
†
Wonder if I inhaled each breath
with the honor it deserved.


© by Jacqueline Jules.
Used here with the authorís permission.
†
†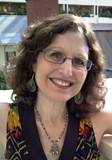 Jacqueline Jules is a former librarian who found herself intrigued by almost every book she put on the shelf. As a reader and as a writer, she doesn't restrict herself to one genre. A resident of Virginia, Jacqueline is the author of 45 books for young readers on a wide variety of topics, including a poetry book for young readers on the joy of activity called Tag Your Dreams: Poems of Play and Persistence (Albert Whitman, 2020). Her poetry has appeared in more than 100 publications, including three chapbooks: Field Trip to the Museum (Finishing Line Press), Stronger Than Cleopatra (ELJ Publications), and the award-winning Itzhak Perlman's Broken String (Evening Street Press). Learn more about Jacqueline at www.jacquelinejules.com and https://metaphoricaltruths.blogspot.com/.
charsbigsis :
What a wonderful view of this pandemic!! Thank you!
Posted 03/11/2021 12:28 PM
ATCGBasePairs :
What a poignant reminder that time is short and we should make the best of whatever situation we should find ourselves in.
Posted 10/29/2020 01:32 AM
MatthewMiller:
The "snuggle" stanza hits so hard. I identify with the sensation of fleeting time, no matter what! Great job!
Posted 10/23/2020 09:38 AM
wayne.goodling@yahoo.com:
Thank you.
Posted 10/22/2020 10:34 AM
Lori Levy:
Encouraging perspective.
Posted 10/19/2020 07:26 PM
Larry Schug:
It doesn't get any better than a poem with banana bread in the words. The final stanza is a superb thought.
Posted 10/19/2020 06:01 PM
Anastasia:
"Wonder if I inhaled each breath with the honor it deserved." That is an amazing and centering thought. Thank you.
Posted 10/19/2020 03:16 PM
Gilbert Allen:
I enjoyed reading this timely poem.
Posted 10/19/2020 01:04 PM
AlmaMPesiri:
a poignant reminder of what we've missed, but what's available to make beautiful memories
Posted 10/19/2020 12:52 PM
michael escoubas:
Totally well said, Jacqueline! How this perspective is needed during these times. Thank you.
Posted 10/19/2020 11:07 AM
TheSilverOne:
Yes, we all doing other things. This poem makes me realize what survivors we are during these unbelievable times...and it's not just time wasted. Thank you.
Posted 10/19/2020 10:07 AM
Paulie Walnuts:
Such a quaint poem, Jacqueline. Amid the mayhem of the pandemic, thank you for highlighting the mundane-turned-spiritual activities that comfort us a little bit each day. Today the sky shines blue!
Posted 10/19/2020 09:31 AM
Jacqueline Jules:
Thank you so much for these kind comments. And thank you to Jayne for choosing this poem.
Posted 10/19/2020 09:10 AM
KevinArnold:
What a delightful poem!
Posted 10/19/2020 08:25 AM
MatthewMiller:
This brought tears to my eyes, especially the stanza about snuggling. Life is precious!
Posted 10/19/2020 08:14 AM
mail@schoolbusmart.com:
And with that last line I took the deep breath with the honor it deserved. Thank you. Nice piece. Randy
Posted 10/19/2020 07:51 AM