The leaves of autumnís
frosty winds,
red and gold and rust,
draw more beauty
from death
than sunlight
and gentle rain
on summer trees
could ever offer.
†
And this solitary pilgrim,
captured by autumnís
blaze of color, when
he takes his final
woodland walk,
what then?
He lifts from this
tabernacle of
earthly shadow,
this life of vapor
and dust, to live
beyond the stars
and shine in the endless
fields of Heaven.


This poem first appeared in Halcyon Days 2019 (Issue 15).
Used here with permission.
†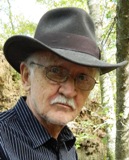 Robert Funderburk was born by coal oil lamplight in a farmhouse near Liberty, Mississippi. After receiving a B.A. in Sociology from Louisiana State University and serving in the U.S. Air Force, he worked as a parole officer for the Louisiana Welfare Department, where dealing with probation, arrests, and investigations provided inspiration for many novels (17 and counting) to come. Robert lives in Louisiana with his wife and daughter.
bobby:
Thank you all for your kind comments. Makes worthwhile the long, nights of writing when my head feels like it's full of corn shucks and I wonder, "Does any of this make sense? Providing a little joy, stimulate some thinking, keep the TV silent, thoughts of the Spirit. What better job? Peace to you all. Bobby
Posted 01/06/2021 12:40 AM
Lori Levy:
Especially like the first stanza where the leaves "draw beauty from death."
Posted 10/21/2020 04:33 PM
michael escoubas:
Nice envelope of flesh and Spirit, Robert. Thank you for reminding me that nature, man and God are inextricably connected.
Posted 10/21/2020 02:07 PM
paradea:
Love this!
Posted 10/21/2020 11:22 AM
waterpoet:
Beautiful. This poem?s two verses could each have stood alone as a powerful poem!
Posted 10/21/2020 10:23 AM
richard.cary@att.net:
wow!!!!
Posted 10/21/2020 09:35 AM
TheSilverOne:
Beautiful poem...and quite a background.
Posted 10/21/2020 09:13 AM
mail@schoolbusmart.com:
Me too, Paula. Wow. Randy
Posted 10/21/2020 08:10 AM
paula:
Wow!
Posted 10/21/2020 06:34 AM