An autumn morning,
golden leaves waves
their palms in the wind.

Layers and layers
of the Blue Ridge Mountains
unfurl like a roller coaster.

Lilac asters dot
the banks of Hyatt Mill Creek,
fog rises like smoke signals

from the Cherokee campfires.
Black birds chatter
in the cornfield,

shocks rattle tambourines,
cattle graze in celery-colored fields,
scarlet leaves twirl across the earth.


© by Brenda Kay Ledford.
Used with the author's permission.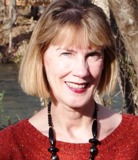 Brenda Kay Ledford is a blogger, author, and poet in Hayesville, North Carolina who writes about her Southern Appalachian heritage. She enjoys nature and this theme is often included in her work, which has earned her the Paul Green Award a dozen times from the NC Society of Historians. In addition to the books shown below, Brenda is the author of Simplicity and Patchwork Memories. Brenda's hobbies include photography, playing the piano and harmonica, writing, and hiking. Read more of her work at http://blueridgepoet.blogspot.com.

Lori Levy:
Very picturesque.
Posted 10/25/2020 05:51 PM
Janet Leahy:
I can see, feel, and hear this poem, "celery- colored fields" yes, we have them in Wisconsin too. Thanks Brenda
Posted 10/25/2020 05:09 PM
Anastasia:
You've painted a wonderful picture with words, Brenda! Thank you!
Posted 10/25/2020 04:20 PM
Mama Goose:
shocks rattle tambourines I remember the sound going to my Aunt and Uncle's for Thanksgiving in southern Illinois.
Posted 10/25/2020 12:23 PM
cork:
golden leaves wave???their palms
Posted 10/25/2020 10:37 AM
KevinArnold:
Interesting that Sharon reads a stanza as a line. Tercets can be that way, more than their even-numbered brethren. Fun poem.
Posted 10/25/2020 10:23 AM
richard.cary@att.net:
Thank you!!!
Posted 10/25/2020 09:51 AM
Sharon Waller Knutson:
I love picturesque poems and the images in this poem are exquisite. My favorite line is: Layers and layers of the Blue Ridge Mountains unfurl like a roller coaster.
Posted 10/25/2020 07:02 AM