They worked all summer.
Pin oak, elm and maple
kept homes for birds and squirrels.
Plum, chestnut and apple
grew food for deer and man.
Their work completed,
before their winterís rest,
they celebrate the end of year
in flamboyant party dress.


From Celebrations (CreateSpace, 2014).
Used here with the authorís permission.
†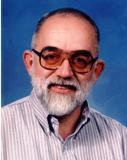 Bill Batcher is the author of four books. A retired teacher, with a Doctorate in Education from Teachers College at Columbia University in New York, his poetry has been published in magazines, anthologies, and online collections, and has won several awards. Bill and his wife, Carol, live in Greenport, New York.
Wilda Morris:
A fun look at autumn! Thanks.
Posted 10/29/2020 12:32 PM
finney@charter.net:
Reading late, but this is a lovely way to end this beautiful October day.
Posted 10/27/2020 07:49 PM
Lori Levy:
Great way of looking at the trees.
Posted 10/27/2020 02:41 PM
paradea:
Neat!!
Posted 10/27/2020 01:03 PM
Mama Goose:
I love it. A true celebration of the deeper worth of the natural environment.
Posted 10/27/2020 12:50 PM
Janet Leahy:
Each day I rake another flounce of their party dress, flamboyant says it so well.
Posted 10/27/2020 11:06 AM
Cathyís Sister:
Great poem. I am enjoying their flamboyant party today!
Posted 10/27/2020 09:41 AM
michael escoubas:
Original and unique . . . fine achievement, Bill, especially in view that so many poems celebrate the same theme. Yours carves its own niche.
Posted 10/27/2020 09:11 AM
cork:
Great balance!
Posted 10/27/2020 08:51 AM
Larry Schug:
This poem paints a picture of deer grazing for acorns beneath this "flamboyant party dress" of foliage. These words describe the scene outside my living room window. Thanks.
Posted 10/27/2020 08:48 AM