He lifts down the clock
from the shelf in the dining room
and places it on a clean tea cloth
on the big table

With his thumbnail
he flicks the little golden latch
and the glass falls forward
on its tiny hinges  

We see the clock's radiant face
like a bride's with her veil  thrown back
and the butterfly-intricate hands
breathless, I watch

the minute hand, pressed down,
turns steadily 'clockwise'
not back an hour but  
eleven slow turns forward.

Time moves in only one direction
it cannot be turned back
He wanted me to know -
I know it now


From This Life: A Love Story (Cyberwit, 2019).
Used here with permission.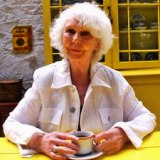 Maryalicia Post grew up in New York City and has lived most of her life in Dublin, Ireland. A journalist and travel writer, she was also a "committed" cross country horseback rider for many years. Her latest book is Sky Full of Clouds. Learn more about Maryalicia at https://maryaliciapost.com/.
wayne.goodling@yahoo.com:
thank you
Posted 11/02/2020 07:18 AM
Jo:
Beautiful.
Posted 11/01/2020 11:10 PM
cork:
Sl?inta
Posted 11/01/2020 10:13 PM
waterpoet:
Lovely!
Posted 11/01/2020 09:36 PM
Sharon Waller Knutson:
What a lovely poem and sentiment. I love this lesson learned when we are old enough to realize it: "Time moves in only one direction it cannot be turned back"
Posted 11/01/2020 09:35 PM
Lori Levy:
Beautiful.
Posted 11/01/2020 09:10 PM
MatthewMiller:
I love the gentle lesson learned at the end :-)
Posted 11/01/2020 09:07 PM