A winter storm makes land at dawn.
Surging seas. Valley snow down
to 100 feet. Schools already closed.
†
Hereís to one more day before brutal snow
shuts my garden down and sends me fireside.
Time, at last, to thaw out tired limbs and doze
without bark slivers in my hands or dirt
beneath my fingernails. Iíve grown weary
of the earth Iíve kneaded daily with intent.
From spring to early frost, perennials
fulfilled their promises and, without pause,
bulbs splashed colors on my plotted beds.
Now Iím done with mudding through autumn rain Ė
saving diehard blooms, erasing moss and weeds Ė
exhausted by the beauty I conceived.
†
And, yet Ö Iíve come to know myself enough
to know Iíll fret for phlox and bleeding hearts,
for jasmine climbing up the backyard fence;
for hostas, dahlias, daisies, roses, mums;
for everything Iíve grown to love. Before
daylight winds down and solar lights go dark,
I have it in me to push fatigue aside Ė †
to prune, mulch, rake, embrace one more †
bedding down, one irreparable good-bye.
Then, let smirking clouds cascade from the coast
and dawn reap relentless snow.
Iíll design next spring out of winter sleep.


This poem first appeared in Spark: A Creative Anthology.
Used here with permission.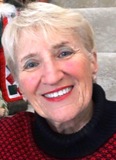 †
Carolyn Martin spent 40 years in the academic and business worlds. Now blissfully retired in Clackamas, Oregon, she is a lover of gardening and snorkeling, backyard birds and feral cats, writing and photography. Since the only poem she wrote in high school was red-penciled "extremely maudlin," Carolyn is amazed that she continued to write, but her fifth poetry collection, The Catalog of Small Contentments, will be released in 2021. Carolyn is currently the poetry editor of Kosmos Quarterly:† journal for global transformation.† Learn more about her at www.carolynmartinpoet.com.

Caro:
Thanks, Lori! It was especially comforting during all the stay-at-home times. Nature heals.
Posted 11/17/2020 10:20 PM
Lori Levy:
I can see the beauty of your garden--and the hard work it takes to make it so beautiful.
Posted 11/17/2020 07:45 PM
Caro:
Thanks, Wayne! Real person, real moss and weeds, real deadheading, etc. The life of a gardener!
Posted 11/17/2020 06:07 PM
wayne.goodling@yahoo.com:
Wonderful! I understood what you were saying and it is so true-to-life. The delight of recognizing a real person doing plants made me smile and then actually laugh out loud. Thank you.
Posted 11/17/2020 05:33 PM
Caro:
thanks so much for your kind comments, Carl, Michael, and Larry. It's lovely to connect with true gardeners!
Posted 11/17/2020 02:20 PM
carlpalmer:
Reading your poem this morning, Carolyn, written in words I should have written while looking out my window, wondering how you knew my thoughts, then I discovered you live down the road from me in Oregon. No Wonder!
Posted 11/17/2020 01:46 PM
michael escoubas:
Like the way you name so many flowers and plants, Carolyn; I also like the cadence, quite lilting and unaffected. A really well-written poem.
Posted 11/17/2020 08:46 AM
Larry Schug:
The voice and thoughts of a true gardener. Even though the garden is "put away" it lingers into the winter.
Posted 11/17/2020 08:10 AM