The Uber driver tells me to take care because
Iím in a bad part of town but Iím more scared
of this freak snowstorm and slipping on icy
sidewalks than muggers. Leonís feels friendly
as I pass through its glowing entry into a mellow
din. Tables are full but I find a pants-polished
stool at the bar. A server greets me as if Iím
the mayor and the fresh fish fry-up tastes
even better than it looks on the menu. The
barkeep serves pie that could only happen
in South Carolina and asks what brings me
to Leonís on a Sunday night. I tell her Iím
flying home in the morning and never miss
a restaurant named for my father.


© by Ronald Lauderbach.
Used with the authorís permission.
†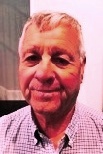 Ronald Lauderbach says he writes poetry to celebrate life and because he likes to play with language. A retired high school English and journalism teacher (he also coached Pony League, for 12- and 13-year-olds), he tries to follow the advice he gave his students: "If you write poetry that moves you, it will move others." Ron lives in San Diego, California.
Jancan:
Descriptive, appealing piece
Posted 11/23/2020 11:00 AM
michael escoubas:
A moment of intimacy painted with an educated brush, Ron. Thank you.
Posted 11/22/2020 10:50 PM
Lori Levy:
Love the contrast between the icy sidewalks and the warmth in Leon's.
Posted 11/22/2020 07:57 PM
Anastasia:
A wonderful encapsulation of a wonderful experience!
Posted 11/22/2020 04:44 PM
KevinArnold:
A poem packed with fun surprises.
Posted 11/22/2020 02:16 PM
juneinca@aol.com:
Enjoyed the poem, thank you.
Posted 11/22/2020 01:35 PM
Glen Sorestad:
A very enjoyable read, Ron, and yes, it will move others. It moved me.
Posted 11/22/2020 12:14 PM
Janet Leahy:
This poem is happening as we read it, the Uber driver warning, the mellow din of a friendly place, the server's greeting and of course the food. Line after line we feel we are there.
Posted 11/22/2020 11:46 AM
Mama Goose:
A beautiful way to celebrate his father with love that is sentiment without being maudlin.
Posted 11/22/2020 10:01 AM
cork:
"Pants-polished stool" is a jewel!
Posted 11/22/2020 09:48 AM
Jean Colonomos-1:
Ah nostalgia. Beautiful.
Posted 11/22/2020 09:09 AM
Sharon Waller Knutson:
I loved this conversation style narrative poem that pulled me in from the first line and held me to the last. I can see "the freak storm" and "the pants polished stool at the bar" and taste the fish and pie. My favorite lines are: "A server greets me as if I am the mayor" and "I never miss a restaurant named for my father."
Posted 11/22/2020 09:05 AM
gailcomorat:
Oh, my heart. Everything about this is just lovely.
Posted 11/22/2020 09:04 AM
Gilbert Allen:
I like the authentic and engaging voice in this poem.
Posted 11/22/2020 08:44 AM
Larry Schug:
This poem moves me, Ron. The last line says everything.
Posted 11/22/2020 07:37 AM