Outside the local supermarket in
my small town, Salvation Army
volunteers sit beside the Red Kettle,
ringing their red bells, playing
recorded Christmas carols.
Mostly older, they work their shift,
wait for a replacement,
greet neighbors, chat with friends.
 
In Midtown Manhattan in early December,
 the Army deploys a different vibe,
two young people, on a busy street corner,
boom box blaring hip-hop music.
In red costumes, they dance
with wild athleticism, sing loudly,
attract lots of attention.  They call out to
strangers walking by, urging them to give.
 
The elderly volunteers with their tinkling bells
would be swallowed up in the street noise of Manhattan.
The cacophony of the hip-hop duo would cause
consternation at the entrance to Vons.
 
But the generosity of the season lives everywhere.


© by Juliane McAdam.
Used with the author's permission.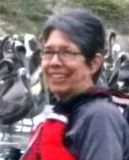 Juliane McAdam is a California native who grew up in the stark beauty of the Mojave Desert. After college graduation, she completed a graduate school program training teachers for disadvantaged areas. She began her teaching career in South Los Angeles in a bilingual program. For the last 27 years of her career Juliane taught English and Spanish to middle school students in Los Angeles, writing poems with them. Now retired and living near Morro Bay on California's beautiful Central Coast, she enjoys walks, kayaking, playing piano, and writing poems for herself to express observations and memories.
Lori Levy:
Love the contrast between the Salvation Army in your town and the one in Manhattan.
Posted 12/01/2020 03:09 PM
carlpalmer:
Timely observations, Juliane.
Posted 12/01/2020 11:58 AM
KevinArnold:
Yes, a perfect poem for giving Tuesday. If you are fortunate doing some giving today, consider YDP as worthy of your support. I do.
Posted 12/01/2020 11:53 AM
michael escoubas:
Very nice take on the "Army" Juliane. I have a good friend who is in change of the yearly kettle drive . . . joy of giving for sure. What a blessing for the season. Thank you.
Posted 12/01/2020 11:18 AM
Jancan:
Yes, the same goal can be accomplished in VERY different settings! Lovely, heartwarming poem.
Posted 12/01/2020 09:00 AM
Larry Schug:
We all have to rise above the din in some way to get our message out. There are no bounds to finding a way for kindness and love to manifest itself as this poem illustrates.
Posted 12/01/2020 08:48 AM
Ronaccount:
Great study of the good parts of people.
Posted 12/01/2020 06:13 AM