Peace on earth is the message of the
sparkling white snowflakes floating gently
down from the dark, starless sky.
The snowflakes settle gently into a
wondrous white blanket, reminding
us of the purity of the season,
obscuring dark and bleak times.
Snowflakes are our hopes and dreams
and we weave them
into a bright, white, shining quilt
to wrap around our souls…
Protection from the harsh reality of the
cruel, crass, commercial world.

© by Ron Stewart.
Used with the author's permission.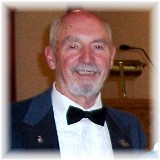 Ron Stewart is a retired airline pilot who started writing poetry in the early '90s. The author of two self-published poetry collections and two cookbooks, his work has been published in a variety of magazines and journals and has won several awards. Ron lives in Kilworth, a small village outside London, Ontario, with his wife of 50+ years, his dog Calliope, and cat Penelope. An environmentalist long before that term became popular, Ron's family refers to him as "the compost cop."
Tracers645:
Beautiful imagery.
Posted 12/20/2020 11:42 PM
Stephen Anderson:
Nice lines, Ron. It seems that we too often shun what could be beautiful weddings with Nature, the ones often hidden due to the distractions of our frenetically-paced lives.
Posted 12/20/2020 10:10 AM
Lori Levy:
Very peaceful.
Posted 12/19/2020 05:01 PM
Threedogs:
Beautiful. It made me tear up. This year has been so hard. Thank you.
Posted 12/19/2020 01:12 PM
Corgicottage:
Wow. I guess he speaks reality, but it seems sort of....harsh.
Posted 12/19/2020 12:54 PM
DavidTookey:
Wonderful message and image! Peace to you Ron.
Posted 12/19/2020 12:41 PM
carlpalmer:
Christmas card, Ron, lovely
Posted 12/19/2020 11:58 AM
Sharon Waller Knutson:
I love this picturesque poem. Living in Arizona, I miss the sparkling white snowflakes and blanket of snow at Christmas time from my memories of my Montana childhood.
Posted 12/19/2020 11:23 AM
Jo:
Beautiful. Thank you for capturing the peace of snow.
Posted 12/19/2020 10:50 AM
cork:
I am taking a moment to watch the snow falling gently outside my window.
Posted 12/19/2020 10:17 AM
michael escoubas:
Refreshing perspectives Ron . . . thank you for connecting Nature's outer, visible world with man's inner Spiritual world. Nicely done.
Posted 12/19/2020 09:29 AM
wayne.goodling@yahoo.com:
Yesterday one of my friends showed me a poem where she made reference to thin patches of snow as a quilt.:::::::::.So it was good to hear about your "wondrous white blanket" and "white, shining quilt.":::::::::You've made the season more gentle for me.:::::::::Thank you.
Posted 12/19/2020 09:15 AM