Past the shortest day – the longest,
darkest night, passing darkness
with the help of friends,
books, music and cigars –
you do what it takes.

On the other side, you wonder
what all the anxiety was about,
why you could not see
through that dark cloud.

Moments of darkness remain.
They pop up now and then.
But when you know the nadir
is behind you, when you
have passed the point of no return,
you can tell yourself new lies,
make up new truths
to keep the calendar moving.

What a fierce organ the mind
becomes, when the primal
juice clots in the base
with feelings of promised death.

But then, like sun rising,
even on a dark cloudy day,
the stream inside you unclogs,
drips, a bit at a time, toward hope,
toward April, of all things –
perhaps resurrection, if you
believe – daffodils and redbuds,
even if you don't.

From Sunlight & Cedar (Chicago: VACPoetry, Hedgehog Press, 2020).
Used here with permission.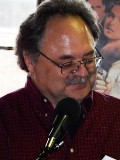 Ken Hada is a professor at East Central University in Ada, Oklahoma. Author of eight books, the latest being Sunlight & Cedar, he was raised in the rural Ozarks and enjoys hiking, flyfishing, and kayaking. Ken's work has received awards from Western Writers of America, the National Western Heritage Museum, The Writer's Almanac, and the Oklahoma Center for the Book. He hosts a weekly podcast, "The Sunday Poems." Learn more about Ken at www.kenhada.org.
Mama Goose:
Very soulful reflection. Makes one think on many levels. Merry Christmas and a Happy New Year.
Posted 12/22/2020 12:01 PM
Lori Levy:
Great images. Love the daffodils and redbuds at the end.
Posted 12/21/2020 04:53 PM
Anastasia:
Lovely! Personally, I love the cold and dark of winter (I have Opposite-Season SAD, so summer is my difficult time), but most of my loved ones are so pleased with the returning light, and I am happy for them.
Posted 12/21/2020 04:42 PM
Larry Schug:
The second stanza, re-worded, tells us all this shall pass. We know this, but for some reason fail to believe ourselves. After all, the can be no light without darkness and vice versa. There is much to contemplate in this poem.
Posted 12/21/2020 11:56 AM
carlpalmer:
You picked the perfect poem for the day, Jayne, from my newest favorite poet, Ken Halda.
Posted 12/21/2020 11:35 AM
michael escoubas:
Very nice imagery, Ken; especially letting nature send or at least suggest the hope of resurrection. I'm all in on that one!
Posted 12/21/2020 10:54 AM
wayne.goodling@yahoo.com:
Thank you. :::::::::::::::: This spoke to me in a deep, prayerful, and personal way.
Posted 12/21/2020 09:59 AM
Corgicottage:
Enjoyed the emotions. Formerly, I abhored winter and its darkness. But then I was born into new attitudes...better perspectives...lighter humors...and accept willingly the snow and cold and dark...not with cigars, no...look at Rush, my God...but with fragrant candles and hot soup and cozy fleece throws. Lies? Maybe. But my heart, she is gladder for the change.
Posted 12/21/2020 09:41 AM
KevinArnold:
I liked the couplet ? the stream inside you unclogs,/ drips, a bit at a time, toward hope,?
Posted 12/21/2020 09:24 AM
richard.cary@att.net:
Wow.... Someone who can use words!!!!
Posted 12/21/2020 08:55 AM
Maryann Hurtt:
Yes, the resurrection of daffodils. Thank you, Ken Hada!
Posted 12/21/2020 07:51 AM
AlmaMPesiri:
considering the things on my mind, this poem is me, sans cigars
Posted 12/21/2020 06:45 AM