He took the mail truck
over the mountain
his young wife came along
for the ride on snow-packed roads
at the pass shining in moonlight

quiet and empty on the holiday
everyone else in town
at the single saloon with mechanical
bull riding, dollar beers all night—
hey, it's New Year's

They drove straight through
the dark to the county seat
piled the heavy canvas sacks
at the rear loading dock
ready for sorting on the second

then returned over the pass
laughing softly at just anything,
with warm lemonade in the glow
of the radio playing forlorn
country hymns

alone on the empty roads
driving into a new year.


© by Emily Strauss.
Used with the author's permission.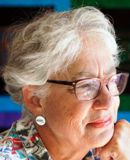 Emily Strauss has an M.A. in English, but is self-taught in poetry, which she has written since college. More than 450 of her poems appear in a wide variety of online venues and in anthologies, in the U.S. and abroad. The natural world of the American West is Emily's usual framework; she also considers the narratives of people and places around her. Emily is a retired teacher and lives in Oregon with a small dog and a black cat.
wayne.goodling@yahoo.com:
You told a story. You took me there with you. Thank you.
Posted 01/01/2021 10:29 AM
Lori Levy:
Love the poem, especially "laughing softly at just anything." That says it all.
Posted 12/31/2020 07:32 PM
Shoshauna Shy:
I love poems about the mail. What an important task they took care to do!
Posted 12/31/2020 05:15 PM
Aurbach:
Beautiful poem, Emily. Thank you. Tonight, just the two of us will be sharing the cioppino we'll spend the afternoon making. Happy New Year everyone, especially to Jayne for this daily gift.
Posted 12/31/2020 01:21 PM
Anastasia:
Lovely images! We'll be home in front of the fire, and may or may not be awake at midnight!
Posted 12/31/2020 12:52 PM
joecot:
It's the "young wife" that brings me into the poem seeing with fresh eyes the vast lonely beauty of the western landscape shared with her lover in moonlight and snow. What a wonderful poem.
Posted 12/31/2020 12:00 PM
Sharon Waller Knutson:
I love this picturesque poem. Brings back memories of riding a mail truck to visit my parents in a tiny Montana town on Christmas morning and New Years Eve when I was in my twenties. I remember the empty snow covered roads, the saloon and the country music.
Posted 12/31/2020 10:00 AM
Glen Sorestad:
A lovely, evocative poem with that wonderful image of two, alone but not, driving into a new year together.
Posted 12/31/2020 08:15 AM
A Jenkin:
Yes, I concur, you have used lovely imagery Emily, I could almost be sitting in the cab looking about. Thank you for sharing.
Posted 12/31/2020 08:03 AM
Larry Schug:
The only two people, alone in a populous world drive into a new year together. The image is stunning.
Posted 12/31/2020 07:33 AM