A teenage boy sways in front of posters on his bedroom wall,
singing with the woman wearing headphones in her kitchen
while a bearded man plays a keyboard from his living room.
Voices join in little boxes on a screen, proving quarantine
cannot stop us from making music together.


© by Jacqueline Jules.
Used here with the authorís permission.
†

†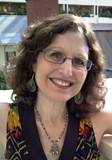 Jacqueline Jules is a former librarian who found herself intrigued by almost every book she put on the shelf. As a reader and as a writer, she doesn't restrict herself to one genre. A resident of Virginia, Jacqueline is the author of 45 books for young readers on a wide variety of topics, including a poetry book for young readers on the joy of activity called Tag Your Dreams: Poems of Play and Persistence (Albert Whitman, 2020). Her poetry has appeared in more than 100 publications, including three chapbooks: Field Trip to the Museum (Finishing Line Press), Stronger Than Cleopatra (ELJ Publications), and the award-winning Itzhak Perlman's Broken String (Evening Street Press). Learn more about Jacqueline at www.jacquelinejules.com and https://metaphoricaltruths.blogspot.com/.
wayne.goodling@yahoo.com:
Thank you.
Posted 01/06/2021 11:10 PM
Lori Levy:
Only 5 lines, but powerful!
Posted 01/04/2021 03:32 PM
Anastasia:
The human drive to create and to connect is strong! An excellent summary!
Posted 01/04/2021 12:58 PM
CamilleBalla:
So true. We improvise!
Posted 01/04/2021 11:52 AM
TheSilverOne:
Connections! Love it. ~~D.Bezio
Posted 01/04/2021 10:15 AM
Sharon Waller Knutson:
I love this sparse picturesque poem. It shows us what we see onscreen in the reality of today and how music can make up for the loneliness of sheltering in place.
Posted 01/04/2021 06:34 AM