When youíre feeling lost and lonely and your beating heart is sad
And your mood is dark and cloudy and your life is going bad,
If you go and saddle up your horse and quickly climb astride
You will find your spirits lifting as on down the trail you ride.

You can guide that prancing pony off toward the setting sun.
If heís feeling fresh and frisky, you can turn him loose to run.
You will find no better way to get away from all your trials
Than to spend some time unwinding riding horseback miles.

The rhythm of your horseís gait will calm your troubled mind;
Just sing along a happy song and leave your cares behind.
The sun and breeze and horse beneath will change your frowns to smiles.
Turn your sadness into happiness with horseback miles

Horseback miles will usher out the clouds and bring the sun your way,
Horseback miles will always brighten up a dark and gloomy day.
Lift a prayer up to the heavens, thank your Maker up above
For the horse that you are riding and the horseback miles you love.


© by Darrell Arnold.
Used here with the authorís permission.
†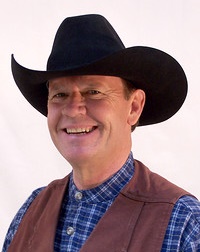 Darrell Arnold has been writing poetry for more than forty years. He was an associate editor at Western Horseman magazine for five years, then launched his own publication, Cowboy Magazine, which ran for nearly eighteen years. Poetry, primarily cowboy poetry, was an integral part of both publications. In the early '90s, Darrell started turning his poetry into songs and has now had more than 20 poems recorded by various western singers; two of them have earned song-of-the-year" awards from Western Writers of America and the Western Music Association. Darrell continues to write poetry and has extended an open invitation to cowboy singers everywhere to team up with him to make more memorable songs.
Anastasia:
I miss going riding on a regular basis! Another thing to look forward to in the post-COVID world.
Posted 01/30/2021 02:57 PM
Wilda Morris:
I always wanted to have a horse of my own. Thanks for sharing the feeling.
Posted 01/16/2021 06:15 PM
paradea:
Love this poem!!! And I agree...the rhythm of the lines makes me feel like I am riding along at a perfect gait!!!
Posted 01/14/2021 03:33 PM
Linda Lee Konichek:
I treasure all the "horseback miles" I have spent!
Posted 01/14/2021 11:38 AM
Darrell Arnold:
Quoting a rancher friend of mine, "The reason I own cows and submit to all the incredibly hard work that goes with ranching is it gives me an excuse to own horses." Often, those ranchers will steal a few hours, saddle up, and just go riding to clear their heads and get in tune with nature. There is nothing like it. Beware. It's easy to get hooked.
Posted 01/14/2021 09:38 AM
KevinArnold:
Fun. I was introduced to horses relatively late but was so taken they became the center of my novel.
Posted 01/14/2021 09:35 AM
cork:
Us city kids rented horses for $1.00 an hour in Wayne County, Michigan. I have good memories of those rides.
Posted 01/14/2021 08:57 AM
bobbi43sml@aol.com:
Even the rhythm of your lines makes the ride come to life! It does indeed feel like a song and brings back memories of those "cowboy Shows" at the grange hall on Saturday nights... when I was growing up in rural Maine.
Posted 01/14/2021 08:12 AM