I have sailed the River of Yellow Flowers,
Borne by the channel of a green stream,
Rounding ten thousand turns through the mountains
On a journey of less than thirty miles....
Rapids hum over heaped rocks;
But where light grows dim in the thick pines,
The surface of an inlet sways with nut-horns
And weeds are lush along the banks.
...Down in my heart I have always been as pure
As this limpid water is....
Oh, to remain on a broad flat rock
And to cast a fishing-line forever!
This poem is in the public domain.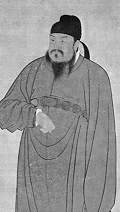 Wang Wei (698-759) was a Chinese poet, musician, and painter. Both his paintings and his poems focused largely on nature; Wei is considered the founder of Southern Chinese landscape art. Sadly, none of Wei's original paintings are known to have survived, but more than 400 of his poems are preserved in anthologies and collections.
Mary Lou Taylor:
Beautiful. Why is it that Asian poetry is so calming.
Posted 07/08/2014 10:13 PM
rhonasheridan:
Just beside this lovely poem is an advertisement for elderly 'Walk-in' showers. Somehow the two connect in a world-weary way.. I think mr Wei has the upper hand-
Posted 06/27/2014 02:01 AM
Katrina:
full colour
Posted 06/26/2014 09:07 AM
Gary Busha:
Yes.
Posted 06/26/2014 08:02 AM
KevinArnold:
So old, this poem, and yet modern too. I particularly like the couplet: ...Down in my heart I have always been as pure As this limpid water is....
Posted 06/25/2014 11:16 PM