Where are the frogs,
those wide-mouthed bassoons,
where have they gone?
Where the long-tongued
bass chucklers of the riverbed
with their resonating neck pouches,
where our amphibian tubas?
Gone, they are gone.

I have heard tree frogs, their music
ethereal as the sheen of oil on a rain puddle,
but where are the ground frogs,
pond frogs, river frogs?
Their absence astounds me.

I have heard of the decline of frogs,
of mutant, two-headed frogs,
of flaws in the thread of their genome,
a genome older than feathers and fur,
but science has no answer.

Where are the frogs?
I miss their croaking counterpoint
to the traffic of rapids and the blue jays' shriek.
I need their staccato didgeridoos
to balance the hypnotic sawing of insects.

The streams and rivers are hushed;
the herons have dropped their willow batons.
Waterfalls may thud like tympanies
but the orchestra can't be mended
without frogs. Where have they gone?
Did somebody hide them?
© by C.E. Chaffin.
Used with the author's permission.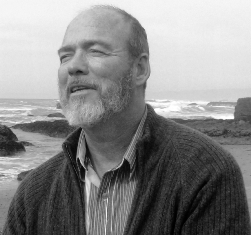 C. E. Chaffin (1954 - 2013) was a family physician who also enjoyed careers as a poet and singer/songwriter. A contributing editor for Umbrella, and publisher of The Melic Review for eight years, C.E. was raised in Southern California then lived for many years on the Mendocino Coast of northern California with his wife and editor, Kathleen, and a dog and cat. Father of three daughters and grandfather of one, he enjoyed gardening, hiking, and fishing. Learn more about C.E. here and click here to enjoy an animated version of him reading this poem.
transitions:
Wonderful poem. I, too, love frogs♡
Posted 05/08/2015 11:01 PM
rhonasheridan:
I love frogs. What a lovely poem.
Posted 05/08/2015 11:05 AM
Larry Schug:
The music of frogs and toads is in full chorus in the bog behind our house. I love this time of year, going to sleep to this song, but I am also concerned that this song may fade away. Take care of our planet, please. This poem does justice both to the magic and the reality of our world in a beautiful way.
Posted 05/08/2015 07:50 AM