I sing a song
of the croissant
and of the wily French
who trick themselves daily
back to the world
for its sweet ceremony.
Ah to be reeled
up into morning
on that crisp,
buttery hook.

From Setting the Table (Dryad Press,1980).
Used here with permission.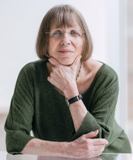 Linda Pastan grew up in New York City, graduated from Radcliffe College, and received an MA from Brandeis University. She has published 15 volumes of poetry, two of which were finalists for the National Book Award; her latest is A Dog Runs Through It (W. W. Norton). Linda's poems have appeared in many journals, including The Atlantic Monthly, The New Yorker, The Nation, and The Georgia Review. She has been Poet Laureate of Maryland, and in 2003 won the Ruth Lilly Poetry Prize for lifetime achievement. Linda lives with her husband in Chevy Chase, Maryland; they have three children and seven grandchildren.
Wilda Morris:
Makes me hungry for a croissant!
Posted 01/31/2021 12:28 PM
paradea:
Nice!
Posted 01/31/2021 09:43 AM
Lori Levy:
Love that "crisp, buttery hook."
Posted 01/31/2021 01:02 AM
tcarr:
"ah" is the new "O".
Posted 01/30/2021 03:15 PM
Anastasia:
One of our local bakeries off frozen, ready-to-bake croissants, so we can pretend we are in Paris any time! Such a civilized start to the day!
Posted 01/30/2021 02:53 PM
Glen Sorestad:
My O my! What a tasty poem, Linda.
Posted 01/30/2021 11:46 AM
Jean Colonomos-1:
Vive la France!!!
Posted 01/30/2021 11:17 AM
Linda Lee Konichek:
What great images, "that crisp buttery hook."
Posted 01/30/2021 11:05 AM
Janet Leahy:
Ah the sweet ceremony of indulgence, love the poem!
Posted 01/30/2021 10:17 AM
cork:
I would love to create a croissant in my kitchen.
Posted 01/30/2021 09:27 AM
michael escoubas:
What a satisfying reading experience! Thank you, Linda.
Posted 01/30/2021 09:08 AM
Gilbert Allen:
An elegant petit poeme to begin the day.
Posted 01/30/2021 09:01 AM
KevinArnold:
This short form puts such pressure on every word, and succeeds with such gems as trick and crisp.
Posted 01/30/2021 07:38 AM
Larry Schug:
These words are also a hook that reeled me into a new day.
Posted 01/30/2021 07:33 AM