As I slide open
my cheerful-ringing cell phone,
I don't feel cheerful,
but your voice forces a warm
smile on this cold winter day.
 
My computer laughs
as I scroll through its endless
choices. My cat laughs
as I glance with surprise at
the desktop clock.Time laughs, too.


© by Harold Whisman.
Used with the author's permission.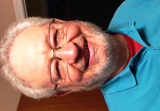 Harold Whisman  is retired after teaching English and journalism in Norfolk, Virginia public schools. In his "golden years," he is writing poetry and helping to babysit his grandchildren for their working parents.  Both pursuits are often frustrating, but also rewarding. Harold's poems have been published in several literary magazines. He lives in Virginia Beach, Virginia.
jamvan:
a thought provoking and droll take on life in the digital age
Posted 02/17/2021 12:35 AM
Lori Levy:
Perfect tankas for "the Digital Age."
Posted 02/16/2021 06:47 PM
Wilda Morris:
Smiling!
Posted 02/16/2021 02:32 PM
Anastasia:
Too true! I set a timer when I sit down at the computer, whether for work or for fun. Otherwise, I find I haven't moved in six hours, and I have become chair-shaped, which makes getting up to walk around quite the challenge!
Posted 02/16/2021 12:49 PM
Jancan:
Great use of personification and dry wit!
Posted 02/16/2021 12:15 PM
MLove:
These are great! I especially love the second one. Today I set a time limit for email etc and I just realized that I'm already 30 min over my time... Oh well...
Posted 02/16/2021 11:12 AM
cork:
Phone call impact!
Posted 02/16/2021 08:58 AM
wayne.goodling@yahoo.com:
good tankas. thankk you. (Yes, and they did make me smile.)
Posted 02/16/2021 06:42 AM