The back of a two-week deep freeze siege
has been broken. From heated homes,

people emerge, tentative as spring gophers
blinking at the sun. But it is not spring

at all, the temperature still below freezing --  
winter prevails. This brief respite from chill

stirs us all. A blue smear above and a skitterish
sun that skulks just above the southern horizon,

buoys us with a day parole from the cold
walls of winter. This warmth is ephemeral,

but listen – snow melt burbles its song
in the eaves, and we offer our tiny prayers …


This poem first appeared in Devour: At and Lit Canada (2019).
Used here with permission.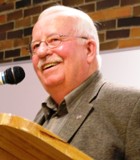 Glen Sorestad is a Canadian poet, fiction writer, editor, publisher, anthologist, and public speaker. Author of more than twenty books of poetry and numerous short stories, his work has appeared in more than sixty anthologies and textbooks. Glen served from 2000-2004 as Saskatchewan's first Poet Laureate and has given public readings of his poetry in every province of Canada, as well as in the U.S. and many parts of Europe. He lives in Saskatoon with his wife, Sonia, who he claims is his "first and most enthusiastic reader and editor." Learn more about Glen here.

Jancan:
Vivid description of this glimpse of spring
Posted 02/24/2021 10:12 PM
Lori Levy:
Beautiful poem.
Posted 02/23/2021 07:24 PM
Anastasia:
It's been over 70 here (near San Francisco) for over a week, and no end of it in sight. I would happily trade you for 30 degrees, so we can have a bit more winter. We'd also take some snow to convert to rain, too!
Posted 02/23/2021 03:32 PM
Arlene Gay Levine:
Immaculate images and a heartwarming last stanza...Great job, Glen!
Posted 02/23/2021 11:52 AM
carlpalmer:
Great choice, Jayne, you chose the perfect poem for all of us.
Posted 02/23/2021 11:37 AM
michael escoubas:
Here in Illinois February has no interest in coddling her children. We need 3 blankets and a quilt until March!! Thank you Glen! Great take on the month.
Posted 02/23/2021 09:34 AM
cork:
I will be on the alert for that day here in Wyoming.
Posted 02/23/2021 09:01 AM
Larry Schug:
We're experiencing a couple days of this now. It seems as if you send us the remains of what Saskatchewan can't use. Sometimes we're grateful, sometimes, not. This poem has just the right mix of optimism and a head shaking dose of reality.
Posted 02/23/2021 07:20 AM
paula:
Love this!
Posted 02/23/2021 05:38 AM