Rapidly approaching
across forested hills
comes a crashing roar
I have never heard before.

I call my golden retriever and we run
trying to make it home
before the blast.

Reaching the front porch, hail—
twelve gauge shot
pelts the ground, ricochets off,
while the roof thunders
thousands of hammers.

I fix a cup of tea.
Sherlock laps his water urgently.
We listen to the storm begin to slacken—
the ticking of ice
like someone throwing rice,
a wedding of winter and spring.


From Stronger Than the Current (The Poetry Box, 2021).
Used with permission.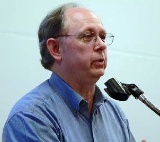 Mark Thalman, editor of poetry.us.com, has been widely published for four decades. Retired after teaching English in public schools for 35 years, he is also an artist who enjoys painting wildlife and seascapes with acrylics. Mark is the author of three poetry collections; the newest, Stronger Than the Current, has just been released. Mark lives in Forest Grove, Oregon; learn more about him at www.markthalman.com.
Anastasia:
A great description of hail, and that last line is more than perfect!
Posted 03/06/2021 05:39 PM
Lori Levy:
Great images.
Posted 03/06/2021 02:42 PM
Arlene Gay Levine:
Riveting last line seals this finely crafted poem.
Posted 03/06/2021 11:25 AM
Janet Leahy:
I love the roll Sherlock plays in this poem and tea, the perfect elixir of calm in a storm.
Posted 03/06/2021 10:48 AM
mjorlock:
Great last stanza! Enjoyable poem.
Posted 03/06/2021 09:44 AM
bobbi43sml@aol.com:
Oh my, the wondrous alliteration, tickles my ears and makes me shiver with delight. Fabulous poem. Thank you thank you
Posted 03/06/2021 09:28 AM
michael escoubas:
Great use of sound effects in this poem, Mark. Well done.
Posted 03/06/2021 09:07 AM
cork:
Since we put on a metal roof, hail storms are special.
Posted 03/06/2021 09:01 AM
Larry Schug:
If a hailstorm hits and there is no one to record it, is it really a hailstorm? If a poem occurs and there is no one to write down, is it still a poem? I am glad you were there to record this event and then sharing it.
Posted 03/06/2021 07:36 AM
Sharon Waller Knutson:
I love how the speaker describes the hail storm building from "a crashing roar" to a "12 gauge shot" to "a thousand hammers" and then dies down to "tinkling of ice" like "someone throwing rice."
Posted 03/06/2021 06:07 AM