the geese arrived today,
only the tenth of March,
our usual bonded pair,
scouting the pond
below the house,
only to find six inches of ice
and their tiny nesting island
a solid frozen hummock,
but they will return,
to begin new life,
as they do every year,
I am deeply grateful
to be part of them


© by Milt Machálek.
Used with the author's permission.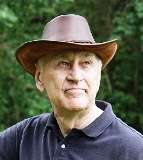 Milt Machálek started life as a Texas farm boy but ended up at Harvard, acquired a  PhD in nuclear physics, and embarked on a career in fusion energy research at Los Alamos and Princeton. Chapter Two was a career in international high-tech business involving Russia and Kazakhstan, and being CEO of a domestic high-tech company. For the past two decades, though, Milt has identified as a metal sculptor and poet. He lives in Lititz, Pennsylvania, which he declares as the "coolest small town in America."
jamvan:
lovely!
Posted 03/10/2021 09:06 PM
Lori Levy:
Beautifully expressed. And impressive bio!
Posted 03/10/2021 06:19 PM
Anastasia:
We have year-round resident geese, as well as geese flocks which migrate through each spring and fall. I always know what season it is by how many geese are on the waterfront! Thank you for helping me realize that I, too, am grateful to be part of the natural world around me.
Posted 03/10/2021 01:07 PM
shirley.bruton@gmail.com:
Thanks for sharing your gratitude.
Posted 03/10/2021 12:56 PM
paradea:
"I am deeply grateful" to be a part of this life. Nice poem!
Posted 03/10/2021 11:31 AM
michael escoubas:
Simply stated . . . most effective and I am especially grateful to learn that a "hummock" is a ridge of ice! Nicely done, Milt.
Posted 03/10/2021 09:44 AM
cork:
I rejoiced the other day when the Canada flew over the house and greeted me.
Posted 03/10/2021 09:17 AM
KevinArnold:
Fun with strong finish.
Posted 03/10/2021 08:36 AM
King:
Love this poem. We have just said goodbye to the geese a few days ago. They overwinter on our beach in the south coast of Ireland.
Posted 03/10/2021 07:37 AM