We've made it through six months
of scarves and boots,
worries over frozen pipes, gas lines.
Tulips display lipstick buds,
lilies explode through soil,
iris spikes bulge.
Shouts of lilac
summon us outside
to see what has happened
to our black and white world.


© by Jan Chronister.
Used with the author's permission.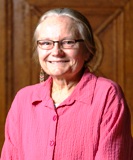 Jan Chronister, a retired teacher of English and Creative Writing, lives in the woods near Maple, Wisconsin. The author of three chapbooks and two full-length poetry collections, she is serving as president of the Wisconsin Fellowship of Poets from 2015-2021. Learn more about Jan at www.janchronisterpoetry.wordpress.com.
Wilda Morris:
Lovely spring poem!
Posted 03/24/2021 06:20 PM
KateTompkins:
Love the imagery of spring's explosive arrival.
Posted 03/17/2021 08:30 AM
Anastasia:
Our little tree out back started to bud last weekit was such an encouraging sight!
Posted 03/16/2021 05:04 PM
Lori Levy:
Love the images of the flowers coming up.
Posted 03/16/2021 02:39 PM
Nancy R:
Today's wake up call brought snow to Door County but Jan's cheerful work helped me see beyond the carpet of white to the lilacs soon to come.
Posted 03/16/2021 02:20 PM
shirley.bruton@gmail.com:
I love the color sprouting up out of all that cold white. Once, at the end of a long winter, while crossing over a mound of ice I heard geese flying overhead. I would have jump for joy, if it wasn't for the ice beneath my feet. I love the transitions between seasons. Thanks!
Posted 03/16/2021 01:58 PM
tiddles:
Yeah for spring coming! Thanks, Jan!
Posted 03/16/2021 10:55 AM
cork:
I watch snow falling outside my window and wonder if three inches will soon be six.
Posted 03/16/2021 09:31 AM