I saw her running
along the road
skirt above her knees
shirt flying open
aconites dancing
on her fingertips
bulbs firing
under agile feet
while raindrops
tangled in her hair

wild-eyed open-mouthed
laughter spilling
with every step
Spring raced
over the hills
casting green
on her path


© by Joanna M. Weston.
Used here with the authorís permission.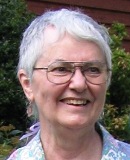 Joanna M. Weston (1938 - 2020) lived on Vancouver Island, British Columbia, Canada with her husband, multiple spiders and raccoons, a herd of deer, and two derelict hen-houses. She was the author of Frame and The McGuire (Tradewind Books, 2015) and A Bedroom of Searchlights (Inanna Publications, 2016), plus a number of chapbooks, and her work was published in a variety of magazines and anthologies. Her blog, featuring many of her poems, remains online at http://www.1960willowtree.wordpress.com/.


Anastasia:
Wonderful images!
Posted 08/16/2021 09:25 PM
jamvan:
Reminds me of the Australian poem 'September the maid with the swift silver feet - she glides and she graces...' Lovely. Thanks Joanna :)
Posted 03/23/2021 12:08 AM
shirley.bruton@gmail.com:
Exciting, invigorating and full of joy. Thank you.
Posted 03/22/2021 05:13 PM
Lori Levy:
Beautiful portrayal of spring. And I see another possible poem in your bio where you mention living with your "husband, multiple spiders and raccoons."
Posted 03/22/2021 04:56 PM
Tracers645:
You captured it! Beautiful!
Posted 03/22/2021 04:51 PM
paradea:
She's not dragging her feet around here either!! Good poem!
Posted 03/22/2021 02:14 PM
Jancan:
Lovely poem, great use of personification!
Posted 03/22/2021 01:10 PM
Gwen:
I was feeling sad this morning and then I read this beautiful - full of life- poem. And smiled. I am always grateful for unexpected joy....
Posted 03/22/2021 10:34 AM
KevinArnold:
Learned a new word, aconites, which are poisonous. Fun.
Posted 03/22/2021 09:56 AM
Sharon Waller Knutson:
I love this whimsical photographic poem. I can see a young girl running, dancing, laughing, racing with raindrops in her hair and love the surprise that the girl is a metaphor for spring.
Posted 03/22/2021 09:37 AM
cork:
I love the metaphor.
Posted 03/22/2021 09:01 AM
AlmaMPesiri:
Great...the young woman I envisioned was in fact Spring...painting the world with possibilities!
Posted 03/22/2021 08:55 AM
Larry Schug:
Thanks, Joanna. This poem has led to my own poem of Spring, though one much more somber. I like the images of the femininity of the season you have created, so expressive of much needed joy.
Posted 03/22/2021 08:25 AM