Now Iím not a gent
Who shows discontent
At my hair being longer in style.
The suave ďartyĒ look
Is the path that I took
In those days when I sought to beguile.

The years have moved on,
Retirement has come,
Yet my choices for hair still remain.
Calm those menacing shears,
Leave it over my ears,
And much of its length still maintain.

Yes, it may be my whim,
But I just want a trim;
Thatís always been my firm instruction;
But with lockdown imposed
And barbers long-closed,
My hair now needs urgent reduction.

It hangs down my face,
Of my eyes, little trace,
Advances quite far down my neck.
Thereís plenty to hack
From its length at the back;
Iíve looked in the mirror to check.
†
Thereíll be more weeks to bide
ĎTil the shops open wide
While my hairís rate of growth remains zippy.
If all else now fails,
Iíll develop pigtails
And continue my life as a hippy.


© by Nick Balmforth.
Used with the authorís permission.
†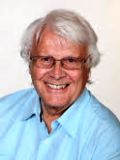 Nick Balmforth is a retired safety inspector of children's indoor play centres. His primary published work has been in the field of safety standardization for the British and European indoor play industry and he was awarded an MBE (Member of the Most Excellent Order of the British Empire) for his work in 2012. Nick is also a successful voice-over artist and, in addition to poetry, enjoys jazz. He lives in Staffordshire, England.
TheSilverOne:
Some humor in a crazy situation. I'm. taking advantage of hat weather!
Posted 03/29/2021 02:09 AM
Lori Levy:
Love the rhyme and the humor in this poem.
Posted 03/28/2021 07:32 PM
Suzanne:
I know exactly what you're going through...mine is a total trainwreck!
Posted 03/28/2021 04:14 PM
paradea:
Fun!!! Whatever you do, don't cut your own hair! Wait for the professionals!!
Posted 03/28/2021 01:52 PM
Sharon Waller Knutson:
Love the title "Lockdown Locks," the meter and rhyme. To tell the truth, my cowboy husband looked like a hippy until the barbershops opened in Arizona.
Posted 03/28/2021 11:07 AM
cork:
Spiffy!
Posted 03/28/2021 10:26 AM
Wilda Morris:
Fun poem! One of the first things I will do when I am fully vaccinated is to get a hair cut! Thanks for putting it into rhyme.
Posted 03/28/2021 09:32 AM
Larry Schug:
Cowboys are hippies, they're just stubborn.
Posted 03/28/2021 09:14 AM
Randilee:
Fabulous Poem Wonderful rhythm It speaks to our generation. Love it!
Posted 03/28/2021 09:06 AM
Darrell Arnold:
While the very last thing in the world I would ever want to look like or be is a hippie, I do highly appreciate your very cleverly metered, rhymed, and constructed poem. A nice job of word smithing it is. As the encouraging expression goes in the ranch country of the West, "Hair on ya." I think Larry is wrong. I think the world needs more cowboys.
Posted 03/28/2021 08:52 AM
Larry Schug:
Love this poem. My hair is much longer (down to the middle of my back and I do wear a ponytail frequently)though there is a story behind it. The world needs more Hippies!
Posted 03/28/2021 07:30 AM