At 13, I danced.
Not in ballet or at parties.
But in the basement,
swirling in circles
on checkered tiles,
my arms waving
this way and that.
†
At 13, I could swing
my hips, hop about
as if the space
surrounding my body
begged to be filled
with whirling limbs
and wild leaps.
†
At 13, I never dreamed
I would need, at 65,
a conscious plan
to pick a station and clear
ten minutes each morning,
so I could revive
the buried pleasure
of being alive.


© by Jacqueline Jules.
Used here with the authorís permission.
†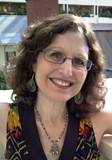 Jacqueline Jules is a former librarian who found herself intrigued by almost every book she put on the shelf. As a reader and as a writer, she doesn't restrict herself to one genre. A resident of Virginia, Jacqueline is the author of 45 books for young readers on a wide variety of topics, including a poetry book for young readers on the joy of activity called Tag Your Dreams: Poems of Play and Persistence (Albert Whitman, 2020). Her poetry has appeared in more than 100 publications, including three chapbooks: Field Trip to the Museum (Finishing Line Press), Stronger Than Cleopatra (ELJ Publications), and the award-winning Itzhak Perlman's Broken String (Evening Street Press). Learn more about Jacqueline at www.jacquelinejules.com and https://metaphoricaltruths.blogspot.com/.
Wilda Morris:
Good poem. We are all aging, so it has a kind of universality. I remember as a tween loving to twirl, just for the feel of a twirling skirt.
Posted 04/10/2021 08:50 PM
Lori Levy:
Like the contrast between dancing in the basement at 13 and dancing at 65.
Posted 04/08/2021 03:20 PM
Larry Schug:
A nice poetic reminder to keep on rockin', y'all!
Posted 04/08/2021 11:42 AM
KevinArnold:
Oh fun. Subtlety sexy, tooor is that just me?
Posted 04/08/2021 09:27 AM
cork:
Is 85 too old to swing and sway to to Sammy Kaye?
Posted 04/08/2021 09:06 AM
paradea:
Love this!!! I'm inspired to restart this old habit of dancing alone with my 70s bones in my living room to my old 70s tunes. Yay!!!
Posted 04/08/2021 08:53 AM