They sit behind cupboard doors
†††† invisible
pastel shades of pink, blue, yellow, green
†††† glowing in the dark.

They were my motherís wedding china
††† each piece stamped with
its manufacture date: 1939, 1942,
††† every holiday meal reflected on those blushing plates.

In Ď46 my sister was born
†††† blonde curls, bright eyes
hands getting what they wanted.

I arrived three years later
†††† middle child, second girl
followed by the blessed boy.

Always the black sheep
†††† misbehaving
†††† sneaking cigarettes
†††† climbing out windows
†††† far-removed
†††† never filling parentsí wishes.

But I am the one with the dishes.


From Caught Between Coasts: Collected Poems 1989-2018 (Clover Valley Press, 2018).
Used with permission.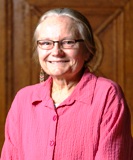 Jan Chronister, a retired teacher of English and Creative Writing, lives in the woods near Maple, Wisconsin. The author of three chapbooks and two full-length poetry collections, she is serving as president of the Wisconsin Fellowship of Poets from 2015-2021. Learn more about Jan at www.janchronisterpoetry.wordpress.com.
Tracers645:
I really like your poem. Thank you for sharing so much. 🤍
Posted 04/12/2021 05:17 PM
Lori Levy:
Great poem, especially the way it leads up to this ending.
Posted 04/10/2021 03:57 PM
Janet Leahy:
This poem comes with so many memories, behind my cupboard doors are the family wine glasses, and I love them. Thanks Jan, so good to read your poem. I did not know there was a world sibling day, my only sister died three weeks ago, it feels lonely without her,
Posted 04/10/2021 01:37 PM
KevinArnold:
Like a world-class gymnast, Jan nailed her dismount.
Posted 04/10/2021 11:57 AM
MLove:
So perfect for me! I have a sister born in '46 but neither of us was the black sheep! And, neither of us wants the dishes! :-) But loved the poem and was happy to share it with my sisters on World Sibling Day
Posted 04/10/2021 11:47 AM
Sharon Waller Knutson:
I love this nostalgia poem and I can totally relate to how precious the family heirlooms can be and to the message that you don't have to be a favorite child to inherit the family china and along with it the memories.
Posted 04/10/2021 10:21 AM
paradea:
This is MY poem, except I'm the one with the 'pinto pot'!!! I love this poem!!
Posted 04/10/2021 09:34 AM
cork:
No one wants our Aztec Frankoma.
Posted 04/10/2021 09:12 AM
KateTompkins:
Made me smile.
Posted 04/10/2021 08:32 AM
Larry Schug:
I have to confess I've always found the order of dishes in cupboards fascinating,so I really like the first verse. The ending is great and what's in between is the story of a life.
Posted 04/10/2021 06:49 AM