I think that I shall never blog
a poem noisy as a frog.
This rural setting should be calm,
so quiet you could hum a psalm.
But by the pond there lies a mire
where frogs of every size conspire
to keep us from our nightly rest.
They sing through day and night with zest.
Those little ones whose springtime peep
has often stood 'twixt me and sleep;
the giant bull whose basso roar
outmatches even my great snore.
Good city folk can sleep like logs;
God wonít send them a plague of frogs

.
© by David M. Harris.
Used with the authorís permission.

†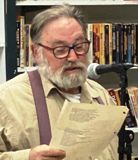 Until 2003, David M. Harris had never lived more than fifty miles from New York City. Since then he has moved to Tennessee, acquired a daughter and a classic MG, and gotten serious about poetry. His work has appeared in a number of journals and anthologies and his first collection, The Review Mirror, was published by Unsolicited Press in 2013.
Jancan:
SUPERB! Love it!
Posted 04/14/2021 10:56 AM
Lori Levy:
Like the humor in this poem.
Posted 04/12/2021 06:13 PM
KevinArnold:
Fun, indeed.
Posted 04/12/2021 01:19 PM
Janet Leahy:
What a fun poem, and the phrase a "plague of frogs" spare me that. Thanks David.
Posted 04/12/2021 10:31 AM
michael escoubas:
Enjoyed the rhyme and meter of this delightful poem, David. Thank you.
Posted 04/12/2021 10:06 AM
Darrell Arnold:
This is great. Nicely done. I do believe that croaking frogs are far nicer to hear at night than the sirens, trains, and honking car horns of the cities. Once, after a big rain in Amarillo, TX, we awoke to a cacofanous chorus of what I assumed were birds. After taking a short walk onto the nearby golf course, I discovered it to be a flood of mating frogs. It's dry in this rural northern Arizona town where I live now. Instead of frogs, we have roosters. On some mornings I can hear as many as 12 different avian oracles announcing the coming of day. I need to write a poem about them. Some folks (and I am not among them) grumble about those cocky cockerels.
Posted 04/12/2021 09:32 AM
cork:
Emily Dickinson also wrote about frogs.
Posted 04/12/2021 09:15 AM
AlmaMPesiri:
Love it - grew up with the Delaware River our "front" yard, and ditches across from the "back" yard. I know these songs! You sure captured them!
Posted 04/12/2021 09:05 AM
KateTompkins:
I love it. I'll be sharing this with my family who look forward to hearing the spring peepers each year.
Posted 04/12/2021 08:15 AM
mail@schoolbusmart.com:
Fun piece.
Posted 04/12/2021 07:01 AM
Larry Schug:
Gotta love this poem though my experience is completely opposite. I live beside a very large bog and, to me, the songs of the frog are a lullaby sung by a choir. In fact, when they stop singing in the summer I miss them terribly. I guess a city boy can sleep through sirens and traffic noise that would not allow me to sleep. None the less, great rhyming poem.
Posted 04/12/2021 06:54 AM