No one knows who paid for the message
that appeared in the deep blue air
over Brisbane that April day:
†


† U XX
I'm Sorry
†
The skywriter claims the customer was anonymous,
and for $4000 cash, he didn't press the issue.
Half an hour later, the characters were gone,
wisped away by the afternoon wind.
Who was that man, and what did he do
that would warrant a message more ephemeral
than roses, but indelible on the intended heart?
†
And how many lovers on the ground below,
trying to dig out from under a huge mistake,
took credit for that cloud-apology,
guaranteeing contentment all over the city that night,
thanks to an act of contrition
written on the billboard of the sky?


© by Bruce W. Niedt.
Used with the authorís permission.
†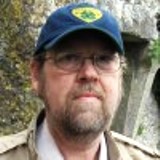 Bruce W. Niedt is a lifelong resident of southern New Jersey. A retired civil servant, he is a happily married father of four and grandfather of three. Bruce's poetry has appeared in numerous journals. His most recent chapbooks are Hits and Sacrifices (Finishing Line Press, 2016) and Aprilcalypse (Four Feathers Press, 2020). Learn more about him at bniedt.blogspot.com.
jamvan:
captures the ephemeral nature of life so beautifully. Like Arthur Stace's graceful copperplate 'Eternity' chalked on footpaths throughout Sydney from the 30's to the 60's. Thought provoking and inspiring.... thankyou Bruce
Posted 04/20/2021 02:41 AM
Lori Levy:
Beautiful.
Posted 04/16/2021 12:43 AM
KinVT:
Fun poem. Proof that poetry can cause happiness. I loved so many of the word choices: more ephemeral than roses, but indelible on the intended heart. Bravo! Interesting that the poet assumed that the sky message was from a man ;) Loved the image of a city full of content lovers, guaranteed no less.
Posted 04/15/2021 07:39 PM
Corgicottage:
Bruce, you hooked me on this one. It touched my heart. I haven't read "act of contrition" since Sacred Heart School! More, please?
Posted 04/15/2021 02:11 PM
Sharon Waller Knutson:
Great love poem. Favorite line: Billboard of the sky.
Posted 04/15/2021 11:40 AM
CamilleBalla:
.... guaranteeing contentment all over the city that night, BEAUTIFUL!
Posted 04/15/2021 11:19 AM
michael escoubas:
Really clever! I think I will appropriate that retroactively!! Thanks Bruce.
Posted 04/15/2021 09:57 AM
Kay N. Sanders:
Those words may have been "wiped away by the afternoon wind" but they have taken root in my heart--and, I suspect, in the hearts of all of us. Thank you, Bruce.
Posted 04/15/2021 09:37 AM
paradea:
I love this poem. It's one you think about long after you read it. That's what a poem is supposed to do! Great job, Bruce!
Posted 04/15/2021 09:27 AM
wordartdjc:
Interesting concept and unusual poem. It truly makes one wonder about the 'story hidden there.
Posted 04/15/2021 08:20 AM
Larry Schug:
This poem tells an untold story. I humbly suggest expanding it into s short (or long)story. I think the characters could be developed and fleshed out, but, of course, poetry leaves all that to the reader's imagination. Good work.
Posted 04/15/2021 07:51 AM