A dip in the County Parkís road,
Filled with last nightís rain,
Stops me.
Eucalyptus leaves float twice
On its dawn mirror,
The end of our favorite walk
Reborn.
†
After dashes, romps
And a thousand sniffs,
Barnaby would stand,
Paws submerged,
His boxer muzzle adrip,
Panting with canine bliss
At this unfettered world.
†
Years on from his death,
Iím tempted
To take off my shoes and socks;
To step in,
Wiggle my toes,
Bend down
And lap.


© by Robert Walton.
Used here with the authorís permission.
†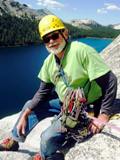 Robert Walton is a retired middle school teacher and a lifelong rock climber with many ascents in the Sierras and Pinnacles National Park. His publishing credits include works of science fiction, fantasy, and poetry. Robert's historical novel, Dawn Drums, won the Tony Hillerman Prize for best fiction in the 2014 New Mexico Book Awards. Most recently, his short story, "Do you feel lucky, Punk?" received a prize in the 2018 Bartleby Snopes Dialogue Only contest. Learn more about Robert at http://chaosgatebook.wordpress.com/.
Wilda Morris:
Enchanting.
Posted 05/17/2021 08:27 PM
Lori Levy:
I love the eucalyptus line, too.
Posted 05/16/2021 06:46 PM
Janet Leahy:
Wow that last stanza tells us so much, sometimes canines do it best. Also love the phrase "eucalyptus leaves float twice on its dawn mirror." This is a walk I would like to do.
Posted 05/16/2021 06:07 PM
michael escoubas:
Delightful scene, Robert . . . painted with words.
Posted 05/16/2021 03:46 PM
Anastasia:
Fun and heartwarming!
Posted 05/16/2021 02:40 PM
joecot:
Made me smile.
Posted 05/16/2021 01:40 PM
cork:
I am enchanted by the eucalyptus leaf images.
Posted 05/16/2021 11:05 AM
Corgicottage:
What a lovely tribute to Barnaby. I love the descriptive words, especially: His boxer muzzle adrip, Panting with canine bliss At this unfettered world. I'd love to read more from Mr. Walton.
Posted 05/16/2021 10:31 AM