The northern cardinal perching
In his brilliant scarlet robes,
His dashing black mask and crown,
Dines this May evening
With his demure mate.
He feeds her seeds—head tilted
As if to kiss—to reach her beak.
A bonding ritual, the ornithologist
Informs us. Yet it's hard not to find
Romance in this annual
Springtime performance.
Romance is a myth we need
In times like these.


© by Ed Meek.
Used with the author's permission.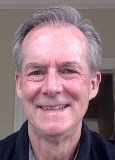 Ed Meek enjoys reading, writing, hanging out with his wife and friends, and walking his dog, Mookie. Author of four books of poetry and a collection of short stories, he lives in Somerville, Massachusetts. Learn more about Ed at edmeek.net.
Anastasia:
Watching the parent birds care for each other during nesting season is a lovely reminder to be kind to ourselves and those around us!
Posted 08/14/2021 04:54 PM
Lori Levy:
Great image of the cardinal feeding his "demure mate."
Posted 05/19/2021 03:52 PM
MLove:
Yes! I was watching this ritual play out through my office window as I read this poem.
Posted 05/19/2021 10:27 AM
RonPoems:
Good metaphor and observation makes good poem.
Posted 05/19/2021 10:09 AM
richard.cary@att.net:
We always need romance, always. It is what keeps us alive.
Posted 05/19/2021 09:37 AM
KateTompkins:
Lovely! I've seen cardinals do this and I, too, choose to see it as romance.
Posted 05/19/2021 08:27 AM
wordartdjc:
Truly, a sweet poem. Why not believe this act is a love story, just of a very different kind?
Posted 05/19/2021 08:25 AM
Larry Schug:
Good words on so many levels. Good poetry, too.
Posted 05/19/2021 08:23 AM