Water daily with silence.
Do not plant the seeds of your own unhappiness.
Allow the sun of your smile to shine on all.
Feed with gratitude.
Mulch with compassion.
What must be let go, prune with understanding.
Perform the humble task of weeding before
ego can overgrow the garden.
Share the wisdom of your garden with an open heart.
Stay present to the unique beauty of all lifeís seasons.
Be both the gardener and the blossom.

†
© by Arlene Gay Levine.
Used with the authorís permission.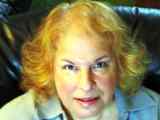 Arlene Gay Levine, always interested in the mysteries of the human heart and healing what ails it, became an educator, curriculum writer, and staff trainer in the New York City school system. Author of 39 Ways to Open Your Heart: An Illuminated Meditation (Conari Press) and Movie Life (Finishing Line Press), her poetry has been featured in numerous anthologies and publications. Mostly recently, Arlene's poem, "The Climb," won 2nd place in the New York Encounter 2020 Poetry Contest. Arlene lives in New York City; learn more about her at http://www.arlenegaylevine.com.
†
Jancan:
Vividly descriptive and appealing sustained analogy--enjoyable
Posted 05/27/2021 07:26 PM
jamvan:
So lovely
Posted 05/26/2021 09:53 PM
Arlene Gay Levine:
My thanks to all! With gratitude, Arlene
Posted 05/26/2021 05:42 PM
KevinArnold:
What fun!
Posted 05/26/2021 12:37 PM
Stephen Anderson:
A beautiful and interesting poem that blooms to life with the awareness of making things right in this world. Well done, Arlene!
Posted 05/26/2021 11:33 AM
CamilleBalla:
Be both the gardener and the blossom. Thank you, Arlene, for the beautiful sharing of your wisdom. This poem says it all.
Posted 05/26/2021 11:28 AM
Janet Leahy:
I just came in after working in my garden, perfect timing for this beautiful poem. Thank you.
Posted 05/26/2021 11:12 AM
michael escoubas:
Wisdom and beauty fuse in delightful ways. Thank you Jayne and Arlene.
Posted 05/26/2021 10:43 AM
paradea:
Beautiful.
Posted 05/26/2021 10:21 AM
Kay N. Sanders:
Your lovely poem has reached me at a time when I needed it. Thank you, Arline.
Posted 05/26/2021 07:29 AM
Rob:
Love the idea of being both the gardener and the blossom!
Posted 05/26/2021 05:46 AM
Nicholas:
Beautiful and inspiring. Thank you Arlene!
Posted 05/26/2021 05:09 AM