There's something to be said
for sitting still and letting things come clear,
the way morning fog burns off the lake.

A friend writes: enlisted
in the Air Force, put on weight and saw the world
you missed. I'm content
to wait on what drops by
or swoops in for a closer view.
My doors are open wide, windows propped
so wind feels free
to flip through my mail, discarding
bills and funeral notices,
scattering pale
handwritten pages on the lawn for everyone
to read. A wedding invitation
went to buttress an oriole nest;
one man passing on the road nearby
pulled over, furtively stuffed a single
sheet in his back pocket, then drove along;
and the last I saw
my friend's letter held its own
with the wind, lightly at tree level
like the jet he flies far
and high away from here.

There's something to be said, and something else
to be kept quiet and cool:
the lake at dawn, before the fog burns off.
From The Apparitioners (Orchises Press). 
Used here with the author's permission.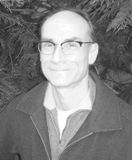 George Witte is the author of three collections of poems:
Does She Have a Name?

 
(NYQ Books, 2014),
Deniability

 
(Orchises Press, 2009), and
The Apparitioners
(Orchises Press, 2004). His poems have been published in a range of journals and anthologized in
The Best
American Poetry
,
Old Flame
,
Rabbit Ears
, and
Vocabula Bound
. He received
Poetry
magazine's Frederick Bock prize, as well as a fellowship from the New Jersey Council for the Arts. For thirty years he has worked in book publishing, as an editor of fiction and nonfiction books, publisher of Picador USA, and for the past fifteen years editor in chief of St. Martin's Press. He lives with his family in Ridgewood, New Jersey. 
John:
Here's to the contemplative life and to the wind that brings us the news--and the olds. A fine meditation.
Posted 05/24/2015 09:55 AM
Katrina:
This is the sort of receptivity I imagine we all aspire to: detached and full of wonder.
Posted 05/24/2015 03:00 AM
anne.lehman2929@att.net:
"I'm content to wait on what drops by or swoops in for a closer view." Oh my, as I am retired, I love this sentiment.
Posted 05/23/2015 08:30 PM
jtmilford:
Your poem is so much life real life.Thanks
Posted 05/23/2015 08:23 PM