You thrust your

Bare toddler foot
into the shallow puddle

And then stomp
rapidly

Your smile turns
into innocent
giggles.

I know in that
instant

The cascades of
delight

Fatherhood
will
eventually bring.

© by Dan Batson.
Used with the author's permission.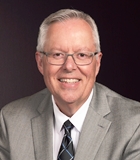 Dan Batson is a United Methodist pastor who lives in Marietta, South Carolina with his wife, Rene', and their cat, Ansie Gray. Author of a memoir, Morning, he is currently working on a collection of true stories he has used in sermons for the past thirty-six years. Dan enjoys spending time with his grandchildren and family. He has recently rediscovered his love of gardening and enjoys taking long walks in the mountains near his home.
PAW:
Delightful. Very visual drawing me into the moment. Those Magical moments of childhood. Gleaning from their innocence. Happy Fathers Day, Dan. Thanks for sharing.
Posted 06/23/2021 11:46 AM
Wilda Morris:
Love the giggles! It brings back good memories of when my grandchildren were little.
Posted 06/21/2021 12:24 PM
paradea:
I like this!!!
Posted 06/20/2021 01:12 AM
Janet Leahy:
A perfect word choice for this poem, "innocent giggles". The word giggles is fun to say, fun to spell and a delight to witness, it lifts my spirits. Also the phrase "cascades of delight" that is how I felt after reading your poem, thanks Dan.
Posted 06/19/2021 10:21 AM
cork:
I could feel that puddle water on my toes.
Posted 06/19/2021 09:28 AM
Rob:
Great title and use of the puddle encounter as a lovely symbol of things to come!
Posted 06/19/2021 07:04 AM