below
on a pile of needles
cones kicked aside
a piece of plastic
a pad    a pillow
too hot for covers
later pure dark        no moon
  no light
no cars on the highway
the dog watches warily
leaps growling into the shadows once
to scare off a raccoon, returns, quiet again
then rises the clatter of grinding steel
the whistle calls across the wide dry
river channel as if
a train would blow through
the silent grove, through
the farm house down the road
shattering trunks
scattering animals
boring holes in the night—
long whistle for the crossing
then soft chuffs as the freight cars
rattle by for many minutes far across the river
still air without a hint of wind
settle down again
the grove thick
and dark
stars glow, I look
straight up
through far
branches


© by Emily Strauss.
Used with the author's permission.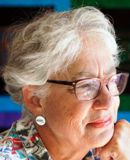 Emily Strauss has an M.A. in English, but is self-taught in poetry, which she has written since college. More than 550 of her poems appear in a wide variety of online venues and in anthologies, in the U.S. and abroad. The natural world of the American West is Emily's usual framework; she also considers the narratives of people and places around her. Emily is a retired teacher and lives in Oregon with a small dog and a black cat.
Lori Levy:
Beautiful depiction of being under those trees.
Posted 07/06/2021 06:10 PM
Adriana:
Perfect evocation of a train in the distance. I like everything about the poem including its wonderful shape, starting quietly with one word, building, filling, then descending again to end quietly with one word. And for fun, the two words are "below" "branches" (as in under trees)!
Posted 07/06/2021 04:02 PM
Anastasia:
A perfect way to pass the night!
Posted 07/06/2021 01:17 PM
Wilda Morris:
I'm out there under the tree in the night with Emily!
Posted 07/06/2021 11:54 AM
wordartdjc:
Just lovely, there is no more to say!
Posted 07/06/2021 11:06 AM
michael escoubas:
This poem exudes delightful sights, sounds and rhythms . . . not to mention its tree shape! Nicely done, Emily@
Posted 07/06/2021 09:46 AM
Jccjccac@aol.com:
Beautiful. Your description of a lovely night brought back memories of family trips- always the sound of a distant train.
Posted 07/06/2021 09:40 AM
Larry Schug:
This poem just keeps getting better and better as it reaches its conclusion. The words took me to this place beneath the pines and told me a story.
Posted 07/06/2021 08:02 AM