despite feeling puffy lately,
you've lost five pounds
                   —or gained five
but shrug it off
as an acceptable price
for good cake, wine,
and camaraderie;
 
all eighteen commute lights
glow green
                 —or red,
but the pauses
slow your pulse,
opening spaces to meditate,
hear a forgotten oldie,
witness a girl
skip past four lanes
of growling auto grills
as if the crosswalk
were the drawbridge
to a fairy castle;
     
you make a sparkling
water-cooler witticism
                 —or wait too long to speak
until it wouldn't be funny anymore,
so your usually silent colleague
fills the gap, and you honor
his time to shine.
 
And if such moments, such days,
are gifts within a Grand Scheme,
a benevolent plan,
then, Yay!,
                —or, if just the latest waves
in an ever-expanding
cause-effect tsunami,
well, then that will have to do.


© by Rob Baker.
Used with the author's permission.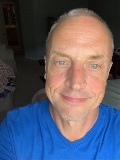 Rob Baker is an English teacher at Barrington High School in Barrington, Illinois. He enjoys reading, writing, making/solving crossword puzzles, and learning how to better craft fiction, non-fiction, and poetry. He is constantly and gratefully inspired by his students, his fellow teachers, and his writing group, the Second-Saturday Poetry Workshop in Palatine, Illinois, to which he has belonged for 10+ years.
cvarsalona@gmail.com:
The introduction of the word pauses immediately signals the importance of slowing down our thoughts and progressing through the day with positivity.
Posted 11/18/2022 07:39 AM
jamvan:
a soothing counter to the mini stresses of the day - thankyou
Posted 07/11/2021 12:03 AM
Wilda Morris:
Wonderful insights!
Posted 07/09/2021 01:01 PM
Lori Levy:
Great poem, great insights.
Posted 07/08/2021 11:55 PM
Rob:
Thank you all for the kind and thoughtful feedback. This is a great community!
Posted 07/08/2021 10:53 PM
Suzanne:
Made me smile
Posted 07/08/2021 08:09 PM
cscoville:
Fantastic! I needed this new perspective today.
Posted 07/08/2021 04:54 PM
CamilleBalla:
so your usually silent colleague fills the gap, and you honor his time to shine. Rob, your thoughts shine throughout this poem. It takes us into your present moments as they appear, including not only your own world but is also other-inclusive. What a good place to be! It is crafted so well and is a pleasure to read. Thank you.
Posted 07/08/2021 01:12 PM
Anastasia:
A helpful perspective! Thank you!
Posted 07/08/2021 01:10 PM
finney@charter.net:
Make that Ah, yes, yes, and yes!
Posted 07/08/2021 11:26 AM
finney@charter.net:
Ah, yesyesand yes.
Posted 07/08/2021 11:25 AM
paradea:
What a wonderful window into someone else's observations, decisions and thoughts of a day in their life...all done to perfection here. I love this uplighting poem!!
Posted 07/08/2021 09:36 AM
cork:
An ode to optimism!
Posted 07/08/2021 09:01 AM
bbatcher:
Great original take!
Posted 07/08/2021 08:34 AM
MaryLeeHahn:
I like how even the flipside of each experience is a positive! They way you tucked those in with a new line and a dash to pause the reader is a great craft move.
Posted 07/08/2021 08:34 AM
r1manchester:
Very good observations Rob, very good poem!
Posted 07/08/2021 06:47 AM