"Enjoy every sandwich."
--Warren Zevon, talking with David Letterman
about his terminal lung cancer shortly before his death

Hereís how to make a great sandwich:
country white bread lightly toasted,
contoured with mayonnaise, leaf
lettuce spilling over the borders,
overlays of tomatoes, train tracks
of bacon leading straight
out of town. No need for road
maps, potato chips, or pickles.
Yes, winter is waiting, just over
the horizon. But right now, Iím
going to sit in the sun and listen
to birdsong. Iím going to eat
every crumb, every plottable
coordinate, now, while I can.


From Some Glad Morning (University of Pittsburgh Press, 2019).
Used here with permission.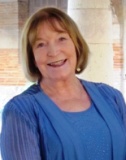 Barbara Crooker's award-winning poems have appeared in numerous magazines, journals, and anthologies and have been featured on the BBC, the ABC (Australian Broadcasting Company), The Writer's Almanac, and in the Poetry at Noon series at the Library of Congress. Recipient of many fellowships and residencies in the U.S., as well as in Ireland and France, she was also a Grammy finalist for her part in the audio version of the popular anthology, Grow Old Along with Me--the Best is Yet to Be. Barbara lives in Fogelsville, Pennsylvania; her latest book is Some Glad Morning, just released from the University of Pittsburgh Press. Learn more about Barbara at www.barbaracrooker.com.
Anastasia:
Yum! I want to eat this poem!
Posted 07/17/2021 06:24 PM
Lori Levy:
Makes me want to be sitting in the sun, eating that sandwich too!
Posted 07/17/2021 02:48 PM
Janet Leahy:
I've had breakfast but this poem makes me hungry for a really good sandwich. Nice reference to winter, just over the horizon, but be present with this wonderful sandwich today.
Posted 07/17/2021 11:22 AM
paradea:
Let this poem run down, and drip off your elbows. It's that good!!!
Posted 07/17/2021 10:33 AM
KevinArnold:
Im not sure Id have the temerity to write such a ravenous poem, especially with a name so similar to Betty Crockers. (Sorry I just cant control myself sometimes)
Posted 07/17/2021 09:59 AM
Nabby Dog:
Absolutely delightful!
Posted 07/17/2021 08:17 AM
Sharon Waller Knutson:
I'm a big Barbara Crooker fan because her poems always have hope and a sense of optimism. Loved the metaphors of borders, train tracks, road map.
Posted 07/17/2021 08:02 AM
Rob:
Relaxing in nature while eating a tasty sandwich ....a wonderful life moment to capture in a beautiful poem!
Posted 07/17/2021 07:53 AM
Larry Schug:
Sounds good to me--the poem and the sandwich.
Posted 07/17/2021 07:41 AM
r1manchester:
a tasty little poem!
Posted 07/17/2021 05:47 AM