'Mid my gold-brown curls
There twined a silver hair:
I plucked it idly out
And scarcely knew 'twas there.
Coiled in my velvet sleeve it lay
And like a serpent hissed:
"Me thou canst pluck & fling away,
One hair is lightly missed;
But how on that near day
When all the wintry army muster in array?"


This poem is in the public domain.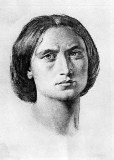 George Eliot (1819 – 1880), whose real name was Mary Ann Evans, was well educated and well connected. Through a social connection, she obtained a position as assistant editor of the Westminster Review, a rather shocking achievement for a woman at that time, and one which allowed her to become acquainted with London's literary crowd. Among that crowd was George Lewes, who encouraged Mary Ann to begin writing fiction in additional to poetry. And write fiction, she did—becoming one of England's most revered and prolific novelists. (Silas Marner and Middlemarch are her best-known titles.) Mary Ann's personal life was happy, if controversial; read more about her here.
anne.lehman2929@att.net:
"like a serpent hissed: 'Me thou canst pluck & fling away,'" I love the way Eliot wishes to toss that which is unpleasant as a 'serpent' or grey hair. We age and must celebrate the process--
Posted 06/28/2014 10:24 PM
rhonasheridan:
This is a surprise! I hadn't associated George Elliot with a sense of humour! I shall read her with consideraqbly more delight.
Posted 06/28/2014 08:13 AM
Ross Kightly:
George Eliot the novelist I knew having been obliged to read 'Middlemarch' for my degree but thank you for introducing me to the perhaps more accessible Mary Ann Evans the poet! Good one!
Posted 06/28/2014 02:17 AM