Do you mean the obvious, green as in grass?
Is it the green of a lawn well-kept
or the duller shade of a yellowing yard?
Are you thinking jungles, banana leaves?
Or is it a far-away dusty green—
a cactus in the desert or tumbleweed?

Perhaps you mean something else entirely:
green as in money, green with envy,
green as in go in a traffic light.

Maybe the mold on a piece of bread.
Color of decay, rusting copper.
Tint of your skin when you're feeling queasy.

What if my green is lighter than yours:
mint or lime or avocado
when you are fixed on fir or cypress?
Will we be able to blend our greens?
Compromise on a Kelly green?

If you say green to me tonight,
will you be thinking of a tattooed hip?
Craving scoops of pistachio ice cream?
Or can I assume your green will mean
the flecks you see in my hazel eyes?


This poem first appeared in in Psychological Perspectives (2012).
Used here with permission.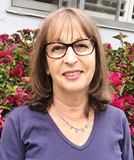 Lori Levy's poems have been published in numerous literary journals and anthologies in the U.S., the U.K., and Israel.  She and her family live in Los Angeles now, but Lori grew up in Vermont and raised her children in Israel.  She enjoys reading, writing, and spending time with family and friends, especially in nature.  Her four grandchildren—soon to be five!--keep her entertained, on her toes and, occasionally, inspire poems.
Anastasia:
So many wonderful hues of green!
Posted 08/31/2021 03:12 PM
Lori Levy:
Thank you all for your comments and support.
Posted 08/30/2021 01:45 AM
CamilleBalla:
Lori, your poem made me look out my window and appreciate the different shades of green in the landscape that were planted with that in mind; also, the sun right now highlighting parts of the maple. As you, Jayne, end the color theme, I am just beginning to get inspired to write about color! Thank you.
Posted 08/29/2021 11:37 AM
KevinArnold:
Besides wanting to look into Lori's eyes, I think of all the different greens in a summer landscape. Fun.
Posted 08/29/2021 10:00 AM
cork:
Makes me think of salad greens.
Posted 08/29/2021 09:14 AM
wordartdjc:
I am moved by this lovely poem. Thank you, dear author. It brought joy to my heart.
Posted 08/29/2021 08:38 AM
Larry Schug:
Living where green is, at best, a five month proposition in the landscape, I find it very worthy of a poem and these words do it justice in all its iterations. This is also a lesson on truly seeing our surroundings.
Posted 08/29/2021 08:17 AM
Sharon Waller Knutson:
I'm green with envy that I didn't think to write this delightful insightful colorful poem first. My favorite lines are: Craving scoops of pistachio ice cream? Or can I assume your green will mean the flecks you see in my hazel eyes?
Posted 08/29/2021 06:48 AM
Rob:
Great turn and development of ideas!
Posted 08/29/2021 06:19 AM
Nicholas:
Lovely touches. Nice gamut of green. Nice structure: nature, the domestic, the personal :)
Posted 08/29/2021 05:02 AM