From deep within the rows of August corn, a trill,
vibrato—every other living voice is still
for just a breath. In tangled verge beside the field,
in trees, among the ears: cicada's well concealed.
Then locusts recommence their creaking, leaping—sticky
feet rebound off stems of thistle, chicory
and me, bare-legged, deep in milkweed. Blackbird's note.
I open woody pods, set flossy seeds afloat.
On porches, grandmamas weave ribbon out and in
and out of eyelets—stitch and snip, pin, un-pin—
for owners of curly-headed dolls. Yards of lace!
They're fastening the ends around the tiny waists
while grampas speak in adages, chaw, lament
the fish that got away. Ayup. And without
a pause, it's circling—as geese fly south and north
again and summer follows summer, bringing forth
another incarnation of this very thistle,
cricket, chicory and milkweed, ribbon, whistle
of blackbird and of train, the wispy rows of corn,
the grandmamas, the homilies—all circling, adorn
this life. Cicada trills again, from spot unknown.
Ayup. It's forty days till frost, grampas intone.


From Make for Higher Ground (Barefoot Muse Press, 2021).
Used here with permission.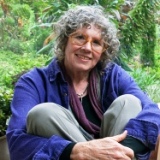 Diane Lee Moomey grew up near the Great Lakes and, since then, has lived and wandered around the U.S. and Canada. These days, she dips her gardener's hands in California dirt, and reads and listens regularly at poetry venues in the San Francisco Bay Area. Diane is the author of multiple books, has published in journals, and has even won a prize or two. Besides poetry, she enjoys long walks beside the ocean, reading mysteries, and painting in watercolors. Learn more about Diane at  https://www.pw.org/content/diane_moomey and www.dianeleemoomeyart.com.
DianeLeeMoomey:
Thank you all so much for your thoughful comments. Ayup. Thanks.
Posted 08/31/2021 11:03 PM
Lori Levy:
Very picturesque. Love all the details.
Posted 08/31/2021 06:00 PM
Anastasia:
An idyllic afternoon for everyone!
Posted 08/31/2021 03:03 PM
joecot:
Ayup. Lovely.
Posted 08/31/2021 12:14 PM
Stephen Anderson:
You have achieved a richness of detail that blends into this poem as true as its elements can get. Nice poem, Diane!
Posted 08/31/2021 10:52 AM
Janet Leahy:
Love the "whistle of blackbird and of train" each line is pure poetry, thank you Diane.
Posted 08/31/2021 10:09 AM
KevinArnold:
I like the plural granpas. A chorus of granpas.
Posted 08/31/2021 09:34 AM
paradea:
Like it!!!
Posted 08/31/2021 09:06 AM
michael escoubas:
Masterfully done, Diane. Nicely paced and rhymed--you have taken the rest of us to school in poetic technique, but of more importance: wisdom about life, its changes, its expectations.
Posted 08/31/2021 08:39 AM
Larry Schug:
Triple WOW! Everything a poem should be.
Posted 08/31/2021 07:59 AM
FirFriend:
beautiful poem!
Posted 08/31/2021 05:33 AM
Stevenson:
Love it. Paints a lovely picture and the rhyme helps the poetic flow.
Posted 08/31/2021 05:11 AM