Their huge tropical leaves fan out
like elephant ears
limbs reaching far beyond
what I had imagined

Thrusting their way into my life
they multiply at will
itís useless to cut them back †

They're unruly, non-conforming
stretching into new found places
pushing against and dangling off fences
hiding beneath their own entanglement
their nomadic wildness uncontainable

The free-wheeling spirit
of the Kabocha squash
are the gypsies of the garden

Besides loving the taste
I'm hooked on the fearless chaos
and aggressive nature of this plant
saving the plumpest seeds for next year


© by Shirley Radcliff Bruton.
Used with the authorís permission.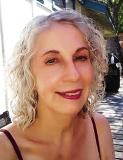 Shirley Radcliff Bruton says her poetry arrived "circuitously," first appearing in performance art pieces in New York and California, then as parts of a script revealing moods, intentions and emotions. "I didn't know they were poems then," she admits. "Now I see my writing as a kind of investigation that offers greater insight into life and who I am in it." Shirley, who lives in a rural area of California's central coast, is the co-author of This 'n That, a collection of poetry, and Tales From a Rocky Coast, Vol. 1, an anthology of diverse voices. Forthcoming in 2021 are two new books—Jake, for young adult readers, and Z, for children five and up—plus a performance chapbook, Quiet Spaces. Learn more about Shirley here.
Lori Levy:
Great portrayal of these "gypsies."
Posted 09/02/2021 08:42 PM
CamilleBalla:
This is delightful to be able to see these or any other nonconforming stretching plants as Gypsies of the garden. Thanks, Shirley! And Jayne, too!
Posted 09/02/2021 10:49 AM
Larry Schug:
Good point, Rob. It takes a poet, sometimes, to change our way of seeing. Good work, Shirley.
Posted 09/02/2021 07:20 AM
Rob:
Never thought I'd look at a squash plant for advice on how to live, but, thanks to your poem, I will from now on! :)
Posted 09/02/2021 05:49 AM